02/13/2020 – Do you have an Amazon Alexa device?  If so, this is for you! (well, even if you don't it's still for you, see below)
It's 2020, and as we have done over the last 10 years, Owassoisms is adapting our services as we see the need, this time with an "Alexa Skill."
Here we will be bringing you up to the minute news, events, info and fun. Once you add the (free) skill in your Alexa app, you will be able to say "Alexa, what's my flash briefing" and there we are, bringing you the latest updates.  The service will be updated hourly, so you can check it at any time. We will be officially launching this on February 16th, but install it now and check it out!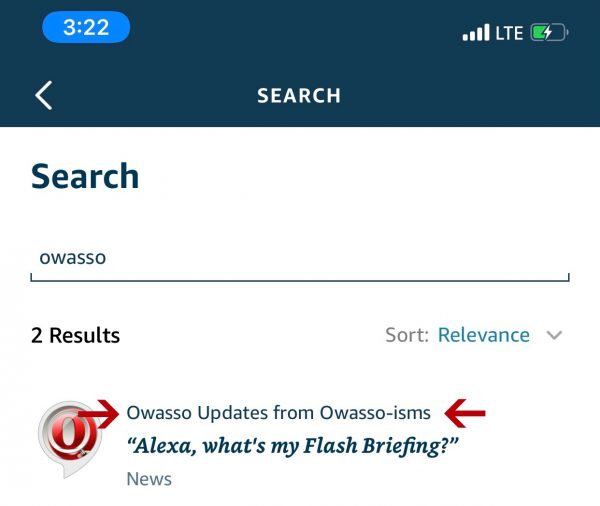 This is what you need to do:
Open the Alexa app on your phone
Click the three lines in the upper left corner
Click Skills and Games
Click Your Skills
Then use the search icon at the top and search for Owasso Updates from Owasso-isms
Enable the skill then ask Alexa, what's my flash briefing"
Note – this must be enabled from the main phone app used by your family.
Owassoisms is hyphenated in the app, so Alexa could pronounce it correctly, go figure!
If you do not have an Alexa device, not to worry.  Within the next month, you will find the same updates on:
Apple Podcast

Spotify

Google Podcasts

Stitcher

iHeart Radio

TuneIn

We will keep you updated on those launches as they happen.
We are excited to add this new chapter to Owassoisms and will adapt it as we go. We hope you come along for the ride.