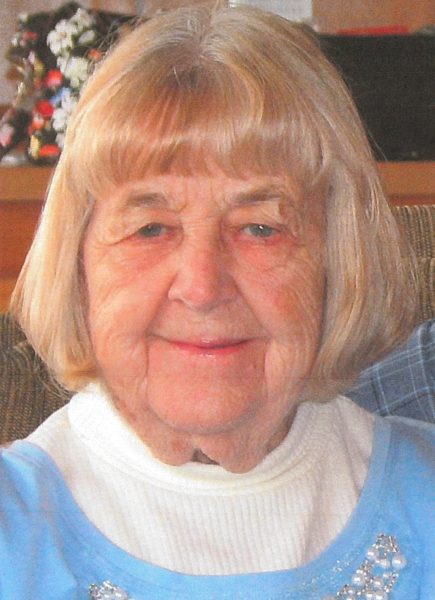 Anne Simeroth was born June 22, 1930, in Porum, Oklahoma, to King and Florence Viola Stout Fisher. She died October 8, 2017, in Tulsa, Oklahoma, at the age of 87 years. Anne was reared and educated in Porum, Oklahoma, and graduated with the Porum High School Class of 1948. She completed her education at Connors State College in Warner, Oklahoma. She was married December 15, 1951, in Webbers Falls, Oklahoma, to Leonard Frank Simeroth. They had made their home together in Owasso for over 65 years. Anne spent most of her working life as a wife, mother, and homemaker, until all her children were in school and then worked as a cafeteria lunch lady serving at Ator Elementary and Mills Elementary in Owasso. She had been a longtime faithful member of St. Henry Catholic Church in Owasso since it became a parish in 1958. She enjoyed a variety of pastimes including crafting and sewing, especially making crafts for the annual church bazaar. She also enjoyed word search puzzles, going to garage sales, and collecting "Willow Tree" angels. She liked to watch her favorite shows such as "American Idol", "The Voice", "The Price Is Right", "Family Feud", "Wheel of Fortune", and playing her handheld Yahtzee game. Anne and her twin brother Lindy were named after Charles Lindbergh, also known as "Lucky Lindy", and his wife Anne Morrow Lindbergh. Neither Anne nor Lindy have middle names.
Those she leaves behind who hold many cherished memories include:
Five children;
Jerry Simeroth and wife Terry, of Owasso
Susan Payne, of Cleveland, OK
Patty Hills and husband Danny, of Owasso
Roger Simeroth and wife Terri, of Collinsville, OK
Donna Eastin and husband Todd, of Inola, OK
12 grandchildren; Joey, Courtney, Joe, Karen, Shane, Heidi, Kelli, Ben, Ty, David, Josh, and Caitlyn
Six great grandchildren; Addy, Hazel, Myleigh, Caroline, Katie Beth, and Josiah
Brothers; Lindy and Floyd
Brothers-in-law; Perry, Carl, Clyde, Jim, and Gene
Sisters-in-law; Betty, Linda, Nadine, Helen, Louise, Frances, Dolly, Susan, and Susette
And a host of nieces, nephews, cousins, and extended family and friends
She was preceded in death by her parents; husband; brothers, Joshua, Roy, Wilson, John, and Tom; sisters, Elsie, Alta Lee, and Ora Mae; brothers-in-law, Wade, Carl, W A, Pat, Raymond, Jack, and John; sisters-in-law, Norma, Bertha, Dorothy, Gladys, Helen, Katie, Mariana, and Evelyn; and sons-in-law, Glen and Steve.
Visitation will be held from 5:00 p.m. to 9:00 p.m., Sunday, October 15, 2017, at St. Henry Catholic Church in Owasso with a Rosary service at 7:00 p.m. Funeral Mass will be held 10:00 a.m., Monday, October 16, 2017, at St. Henry Catholic Church with Father Matt LaChance officiating. Serving as casket bearers will be her grandsons, Joey Simeroth, Joe Slitzker, Shane Hills, Ben Simeroth, David Simeroth, and Josh Eastin. Committal service and interment will follow at Fairview Cemetery in Owasso. Arrangements and services were entrusted to Mowery Funeral Service of Owasso.
www.moweryfs.com