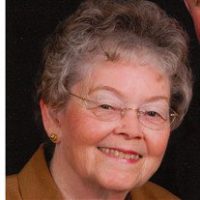 Audrey Forschler Hutchings was born January 23, 1928, in New Orleans, Louisiana, to Lawrence Louis and Mildred Beatrice Meyer Hildenbrand. She died Tuesday, January 8, 2019, in Tulsa, Oklahoma, at the age of 90 years. Audrey was reared and educated in New Orleans and graduated with the Nichols High School Class of 1942. She was married January 20, 1951, to Philip A. Forschler. He preceded her in death August 29, 1997. She spent much of her working life as a homemaker and caring for her family. She later continued her education at Tulsa Community College earning her Associates degree in Interior Design. She married April 10, 1999, in Tulsa, Oklahoma, to Don Hutchings. She was a faithful member of St. Henry's Catholic Church in Owasso. She enjoyed a variety of pastimes including painting, especially China. She was a talented seamstress and enjoyed knitting. She liked playing bridge with friends and family. Audrey was a member of the Garden Club and enjoyed spending time outdoors in her own garden. She particularly enjoyed her role as grandmother, or "Grams", to her grandchildren.
Those she leaves behind who hold many cherished memories include:
Her husband; Don, of the home
Two daughters and sons-in-law;
Patricia and Thomas Fulton, of Jenks, Oklahoma
MaryAnn and Steve Sossamon, of Georgetown, Texas
Four grandchildren
Nine great grandchildren
Three great great grandchildren
Two sisters; Dorothy Markaverich, of Shreveport, Louisiana
Betty Sammons, of New Orleans, Louisiana
She was preceded in death by her parents, her first husband, and daughter, Diane Forschler.
Visitation will be held from 1:00 p.m. to 5:00 p.m. Sunday, January 13, 2019, at Mowery Funeral Service in Owasso. Funeral Mass will be held 10:00 a.m. Monday, January 14, 2019, at St. Henry's Catholic Church in Owasso with Father Matt LaChance officiating. Serving as casket bearers will be Thomas Fulton, Steve Sossamon, David Hutchings, Philip Dorsey, Larry Markaverich, and Charles Caillouette. Committal service and interment will follow at Calvary Cemetery in Tulsa. Arrangements and services were entrusted to Mowery Funeral Service of Owasso
.