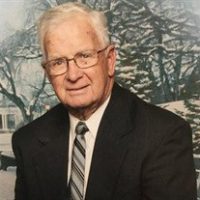 Billy Rex Sellers was born April 5, 1932, in Claremore, Oklahoma, to John Henry and Mary Pauline York Sellers. He died Thursday, January 3, 2019, in Bartlesville, Oklahoma, at the age of 86 years. Billy completed his secondary education in Tulsa, Oklahoma, and graduated with the Will Rogers High School Class of 1950. He was a veteran of the armed forces having served his country honorably with the United States Army. After his discharge he continued his education at Oklahoma State University in Stillwater, Oklahoma. Billy spent most of his working life as a letter carrier with the United States Postal Service. After retiring from the post office, he continued working as a bus driver for Union Public Schools and Collinsville Public Schools. He was a member of the Shriners, Tulsa Square Dance Association, the Masonic Lodge, and American Quarter Horse Association. Billy was married January 31, 1993, in Tulsa, Oklahoma, to Amanda Yates. He enjoyed a variety of pastimes including farming and ranching. He loved working with horses and cattle and was a talented calf roper. He also enjoyed woodworking. He was extremely fond of his role as "Granpa", and loved spending time with his grandchildren and great grandchildren.
Those he leaves behind who hold many cherished memories include:
His children; Michael C. Sellers and wife Kelly, of Duncan, Oklahoma
Bill "Skipper" Sellers and wife Anne, of Owasso, Oklahoma
Teresa Sellers, of Collinsville, Oklahoma
Preston Sellers and wife Verna, of Talala, Oklahoma
Kelli Schultheiss and husband Boyd, of Collinsville, Oklahoma
Grandchildren; Amanda Stevens and husband Daniel, of Irving, Texas
Kylie Andrews and husband Logan, of Duncan, Oklahoma
MaKenzie Sellers, of Duncan, Oklahoma
John Sellers and wife Lindsey, of Fort Rucker, Alabama
Mary Purvis and husband Price, of Tulsa
Virginia Williams and husband Jesse, of Tulsa
Benjamin Sellers, of Tulsa
Nicole Driehorst, of Collinsville, Oklahoma
Megan Morland and husband Josh, of Claremore, Oklahoma
Jeremy Creek, of Talala, Oklahoma
Lindsey Schultheiss, of Vinita, Oklahoma
Amy Schultheiss, of Owasso, Oklahoma
Kerry Eubank and husband Grant, of Collinsville, Oklahoma
Great Grandchildren; Aizee, Hannah, and Caleb Stevens
Benson and Jackson Purvis
Lincoln and Emerson Williams
Austin Zobisch
Kaileigh Driehorst
Hailey and Hunter Morland
Raegan and Cooper Eubank
Blayke and Ellyott Schultheiss
Sister; Virginia Lee Martin
He was preceded in death by his parents, two brothers, Jim Sellers and Johnny Sellers, and two sisters, Ruth Anne Rhunes and baby girl Sellers.
Funeral service will be held 1:30 p.m. Tuesday, January 8, 2019, at the Collinsville Free Will Baptist Church with Pastor Herman Wood officiating. Serving as casket bearers will be Austin Zobisch, Jeremy Creek, Grant Eubank, Price Purvis, Jesse Williams, Benjamin Sellers, and Bryson Talbott. Committal service and interment will follow at Memorial Park Cemetery in Tulsa, Oklahoma. The family requests memorial contributions be made to the Akdar Shrine of Tulsa, 2808 South Sheridan Road, Tulsa, Oklahoma, 74129, or http://akdarshrine.org/donation-information/ or The Journey Home, 900 NE Washington Boulevard, Bartlesville, Oklahoma, 74006. Arrangements and services were entrusted to Mowery Funeral Service of Owass