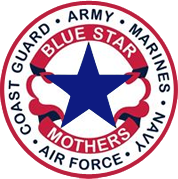 04/13/2019 – Blue Star Mothers are mothers of Sons or Daughters who are currently or have served in the Military. Their organization's mission is to "Support Our Troops Until They All Come Home."  They currently pack boxes with $45 worth of products that help the troops and give them a little taste of home when they are deployed.
It takes $15.99 to ship each box to a deployed soldier. They rely on community donations to supply the troops with these much needed and desired items. Blue Star Mothers – Chapter 5 ships 100-300 boxes per month all year long.
Fundraiser at Raising Cane's

Tuesday – April 23, 2019 – 11am to 10pm
13301 East 96th Street North – Owasso
Mention BA Blue Star Mothers when placing your order and 15% of the sale will be donated to our organization.
Sign-up for event reminder by CLICKING HERE.