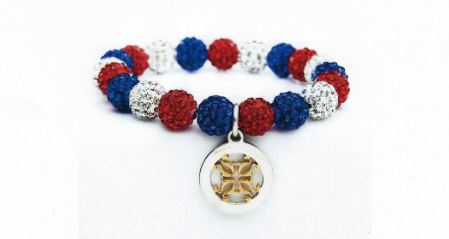 HELP SUPPORT OUR TROOPS – BA Blue Star Mothers Fundraiser
•Patriotic Emerson Rustic Cuff Bracelet– Red, Silver & Royal Blue with new Silver and Gold Logo
New for 2016 – This bracelet will have 20 beads and a Logo Charm that is gold in the center with a silver rim.
Adult $35.00 (tax included) Add: Shipping $6.80 (if requested)
Last Day to Order: April 20, 2016

Payment due at time of order. BSM Rustic Cuffs will be delivered approximately on/or before June 30th!
Several pick up and delivery options available for the Tulsa Metro Area.

*Please make checks payable to: Broken Arrow Blue Star Mothers or BABSM
Mailing Address: P.O. Box 3548 – Broken Arrow, OK 74013
Office: 918-259-9479 / Email: [email protected]
Paying with a credit card is available via the PayPal link on our website.

For Assistance:
Contact Susan Thesenvitz – Phone: 918-808-0747
Email: [email protected]
Website: www.babluestar.org