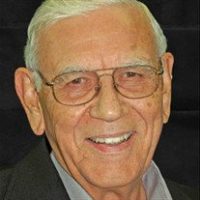 Bobby Lee Siens was born May 17, 1933 in Owasso, Oklahoma, to Jessie Johnson and Dora Lee Bugher Siens. He died Sunday, October 7, 2018, in Springdale, Arkansas, at the age of 85 years. Bobby was reared and educated in Northeast Oklahoma and graduated with the Collinsville High School Class of 1952. He continued his education attending Draughan's Business College. He was a veteran of the armed forces serving his country honorably with the United States Army. Bobby was married June 15, 1957, in Tulsa, Oklahoma. He spent most of his working life with American Airlines as an engine's records clerk as well as publications. He was a faithful Christian and had attended First Baptist Church in Owasso and First Baptist Church of Salina. He served as a deacon and Sunday School teacher for both adults and children. He loved being around the kids and teaching the AWANA's activities. He enjoyed a variety of pastimes including working in the garden and spending time reading. He particularly enjoyed his role as Grandpa to his grandchildren.
Those he leaves behind who hold many cherished memories include:
His daughter and son-in-law; Laura and Jay Grutz
Two grandchildren; Sidney Grutz, and Seth Grutz and his wife Lindsay.
And a host of nieces, nephews, and many relatives and friends.
He was preceded in death by his parents, his wife Marie, son, Kenneth Siens, three brothers, Clark Siens, Luther Siens, and Martin Siens, and four sisters, Ola Bell Poyner, Mary Dowell, Ethel Spurgin, and Ada Payne.
Visitation will be held from 4:00 p.m. to 7:00 p.m. Tuesday, October 9, 2018, at Mowery Funeral Service in Owasso. Funeral service will be held 11:00 Wednesday, October 10, 2018, at First Baptist Church of Salina with Pastor Steve Waechter with viewing one hour prior to service. Final resting place will be at Ross-Mayes Cemetery east of Salina. The family requests memorial contributions be made to First Baptist Church Building Fund, P.O. Box 699, Salina, Oklahoma, 74365. Arrangements and services were entrusted to Mowery Funeral Service of Owasso.