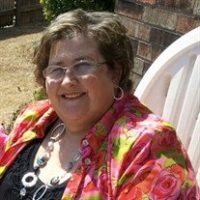 Catherine "Kate" Emma Dimon was born September 27, 1948 in Aberfeldy, Scotland to Karl and May Rokitta. She passed away at home on September 8, 2018 in Owasso, OK surrounded in love by her family at the age of 69. Kate grew up in Aberfeldy, Scotland and when she was 18 moved to Edinburgh, Scotland and began working for Strutt and Parker. Kate moved to Dahran, Saudi Arabia to work for Saudi Armaco and met Charlie Dimon while living there. The two would marry in Aberfeldy, Scotland during a blizzard on January 28, 1978. The newlyweds moved to Exeland, Wisconsin where they owned and operated a dairy farm, and had two daughters. A few years later Kate and her family moved back to Saudi Arabia and after a few more moves would come to reside in Owasso, Oklahoma in 1990. Kate loved the community in Owasso and began working in the office at Mills Elementary a few years later. Mills is where she earned her nickname Miss Kate. Kate retired after 22 years as the principal's secretary. She loved the staff and children, and was excited later in her career when former students began to bring their children to same school. Kate's family would like to thank the countless faithful friends for their visits and support during her illness. The family would also like to thank Dr. Street and the team on the 14th floor of St. John Hospital for the love and care.
Kate leaves behind her husband, Charlie Dimon of Owasso; daughter Rachel Rudisill and husband David; daughter Sarah Dimon; granddaughter Hayley Rudisill; sister Rhona Henry and husband William of Edinburgh, Scotland; brother David Rokitta of Aberfeldy, Scotland; brother Fred Rokitta of Tbilisi, Georgia; brother Sandy Rokitta and wife Morvan of Oban, Scotland; and multiple niece and nephews. She was preceded in death by her parents Karl and May Rokitta.
A memorial service will be held at 11 a.m. on Thursday, September 13 at Mowery Funeral Service of Owasso, 9110 N Garnett Rd, Owasso, OK 74055. The family request that in lieu of flowers donations be made in Kate's honor to the Baptist Children's Home of Owasso at 12700 E. 76th Street North, Owasso, OK, 74055.