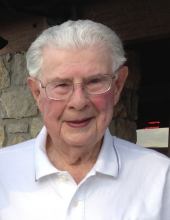 Charles Peter Rader, known to many as "Chuck," was born on August 4, 1924 in East Greenville, PA to Robert and Ada Rader and had two brothers, Paul and Marlin. He was a fine man of wit, honor and integrity and was a firm foundation for his family.
He enlisted in the Army at age 18 during WWII, and earned the rank of Lieutenant. Traveling across the Atlantic on the Queen Mary, which had been converted to a troop ship, he was based in Scotland before being sent to central Europe. Toward the end of the war he traveled from Marseille, France to Okinawa on another troop ship; it was during this journey that he met Mary Elizabeth Rhyne, an Army nurse who had been stationed in Italy. They were married in September 1946, and had four daughters – Marianne McLean (John), Linette Carnevale (Tony), Karen Thetford (Loren) and Janice Montanaro. They had five grandchildren – Kimberly Gray (Cameron), Elizabeth Wells (Michael), Nicole Christensen (Preston), Amanda Zizzo (Jonathan) and Jacob Thetford (Sarah) as well as two greatgrandchildren – Jackson Wells and Hayden Wells. Mary Elizabeth preceded her husband in death after enjoying more than 50 years together.
Following WWII, Chuck attended Tennessee Tech in Cookeville, TN where he played football and graduated with a degree in Civil Engineering. He worked for the State of Illinois Highway Department before accepting a position with Cities Service Oil Company where he was employed until retirement. As Chuck moved forward in the company he and his family lived in the states of Illinois, Ohio, New Jersey, Georgia and Oklahoma.
A great fan of college football and basketball, he and his wife, Mary Elizabeth, were very active in the Tulsa University Hurricane Club for several years.
After retirement, Chuck enjoyed many very successful years of breeding and racing Quarter Horses and Appaloosas. Bodacious Bunny and Sure Smash were two of his favorite horses, and were both guaranteed to be crowd-pleasers at the racetrack.
Chuck later married, at age 84, Nadine Moyer, and they shared 10 years as husband and wife before her death in April 2019.
Chuck Rader will always be remembered with love and admiration by his family and friends. He was a true gentleman whose wisdom and advice were always sound. He loved Polka and Big Band music, The Godfather movies, and considered General George S. Patton to be his personal hero.
Out of love for the family and friends, the Charles Rader family will save the Memorial Service, hugs, and personal greetings for you at a later date. To plant a beautiful memorial tree in memory of Charles Peter Rader, please visit our Tribute Store.