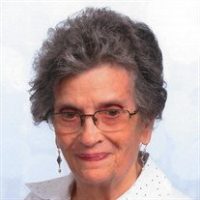 Dessie Lee Reed was born January 5, 1936, in McLean, Texas, to Clyde Taylor Ware and Blanche Viona Lloyd. She died Saturday, September 1, 2018, in Owasso, Oklahoma, at the age of 82 years. Dessie was reared and educated in Wheatland/Grady, New Mexico, and graduated with the Grady High School Class of 1954. She continued her education at Amarillo College in Amarillo, Texas. Dessie was married June 13, 1953, in Clovis, New Mexico, to Paul Franklin Reed. She spent much of her working life with Southwestern Public Service in Amarillo, starting in the mail room and working her way up to executive secretary. She and Paul have made their home in Owasso, Oklahoma, since 2005. They have been faithful members of Bible Church of Owasso. She enjoyed a variety of pastimes including sewing and painting.
Those she leaves behind who hold many cherished memories include:
Her husband; Paul, of the home
Son and daughter-in-law; Ken and Carol Reed, of Owasso
Daughter; Sharon Turnbough, of Jennings, Oklahoma
Seven grandchildren;
Matt Turnbough and wife Christy, of Fort Wayne, Indiana
Janna Hackett and husband Daniel, of Clovis, New Mexico
Robert Turnbough and wife Mariola, of Portales, New Mexico
Kirstyn Turnbough, of Jennings, Oklahoma
Erik Reed and wife Jamie, of Shoreline, Washington
Keith Reed, of Oologah, Oklahoma
Robert Malone and wife Nikki, of Collinsville, Oklahoma
Nine great grandchildren; Donovan, Savannah, Mason, Corban, R.J., Kaleah,
Landon, Levi, and Sadie
Two brothers, Marion Ware and Bob Ware, both of Clovis, New Mexico
Three sisters; Lois Hale, of Clovis, New Mexico
Edna Gorman, of Norco, California
Elsie Hightower and husband Willie, of Chico, California
She was preceded in death by her parents, two sisters, Echo Mackechnie and Georgie Corbin, and one brother, Dale Ware.
Visitation will be held from 4:00 p.m. to 8:00 p.m. Wednesday, September 5, 2018, at Mowery Funeral Service in Owasso. Funeral service will be held 10:00 a.m. Thursday, September 6, 2018, at Bible Church of Owasso with Pastor Ted Johnson officiating. Committal service and interment will follow at Green Acres Memorial Gardens in rural Owasso. Arrangements and services were entrusted to Mowery Funeral Service of Owasso.
www.moweryfs.com