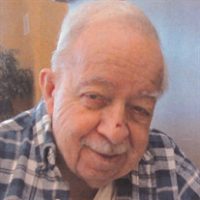 Donald Carl "Don" Medlin was born March 23, 1933, in Tulsa, Oklahoma, to Carl Otis and Hilda Alice Vickers Medlin. He died Sunday, August 5, 2018, in Tulsa, Oklahoma, at the age of 85 years. Don was reared and educated in Owasso, Oklahoma, and graduated with the Owasso High School Class of 1951. He then served his country honorably with the United States Army and then with the United States Navy. He was married September 25, 1955, in Philadelphia, Pennsylvania, to Maxine Spickelmier. Don spent most of his working life as a bus driver with Greyhound Bus Lines, and later as a truck driver. He and Maxine had been members of the Disney Assembly of God in Disney, Oklahoma. He enjoyed a variety of pastimes including fishing and spending time at Grand Lake. He also enjoyed hunting, especially trips to Colorado where he hunted deer and elk. Don loved to watch the cowboy channel as well as the old westerns. He had actually been active with the Owasso Round-up Club in years past. After retirement when he was able, he would take family and friends on excursions to Alaska.
Those he leaves behind who hold many cherished memories include:
His wife of over 62 years; Maxine, of the home
Two daughters; Linda Vanderpool and husband Gerald, of Tulsa
Donna Medlin, of Tulsa
Six grandchildren
10 great grandchildren
He was preceded in death by his parents, son, David Carl Medlin, and sister, Sue Gibson.
Visitation will be held from 4:00 p.m. to 8:00 p.m. Thursday, August 9, 2018, at Mowery Funeral Service in Owasso. Funeral service will be held 10:00 a.m. Friday, August 10, 2018, at the Memorial Park Cemetery Chapel in Tulsa with Pastor Leonard Pirtle officiating. Final resting place will follow at Memorial Park Cemetery. Arrangements and services were entrusted to Mowery Funeral Service of Owasso.
www.moweryfs.com