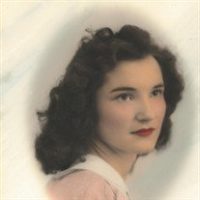 Edith Aileen Lack was born May 2, 1925, in Shidler, Oklahoma, to Kirby Anderson and Lucille Marie Bradfield Price. She died Thursday, January 3, 2019, in Owasso, Oklahoma at the age of 93 years. Edith completed her secondary education in Tulsa, Oklahoma, and was a graduate of Central High School. She was married September 5, 1942, in Turley, Oklahoma, to Billy Lack. They had made their home in Owasso since 1968. Edith spent most of her working life as a purchasing agent with Tulsa Junior College, Douglas Aircraft, Scott Rice, but primarily with Rockwell International. She enjoyed a variety of pastimes including dancing. She also enjoyed arts and crafts, particularly painting and quilting. She especially enjoyed her role as "Grandma" to her grandchildren and great grandchildren.
Those she leaves behind who hold many cherished memories include:
Her husband of over 76 years; Billy, of the home
Three children; Billy Roy Lack, Jr., and wife Frances, of Skiatook
Carmon Coats and husband Charles, of Owasso
Gary Lack and significant other Evelyn, of Owasso
Grandchildren; Tina Charrier and husband Jeff, of Inola, Oklahoma
Dena Schnorrenberg, of Skiatook
Bryan Goins and fiance Brandi, of Tulsa
Brent Goins and wife Trisha, of Owasso
Aaron Goins and wife Shannah, of Tulsa
Scott Coats, of Houston, Texas
Smokey Davidson, of Owasso
Corey Lack and wife Amanda, of Jackson, Wyoming
23 Great grandchildren
Seven great, great grandchildren
She was preceded in death by her parents, an infant daughter at birth, and five sisters, Ella Mae Meek, LaVelda Bishop, Anava Cannon, Virginia Price, and Lola Faye Veilleux.
Visitation will be held from 4:00 p.m. to 8:00 p.m. Monday, January 7, 2019, at Mowery Funeral Service in Owasso. Funeral service will be held 10:00 a.m. Tuesday, January 8, 2019, at the Mowery Funeral Service Chapel in Owasso with Pastor Leonard Pirtle officiating. Serving as casket bearers will be Bryan Goins, Brent Goins, Aaron Goins, Rudy Lack, Jeff Charrier, and Corey Lack. Committal service and interment will follow at Osage Gardens in Skiatook, Oklahoma. Arrangements and services were entrusted to Mowery Funeral Service of Owasso.