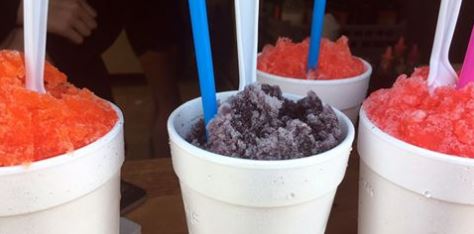 05/16/2018 – There's a new kid in town… sort of.  Flip's Shaved Ice on 86th street has a couple new owners and a new name; everything else will remain the same. New owner and Owasso native, Phillip Wilson, and his wife Taylor, jumped on the opportunity when the former Tastee Breeze location became available. Previous owners, Zach and Angie Harbaugh have made it a priority to educate Phil and Taylor on exactly how the stand was run before.  The Wilson's want to ensure that they can maintain the same quality of product and customer service by making as few changes as possible.   
You will recognize the same smiling faces as before working at the stand.  They kept as much of the same staff as before because they are the ones that know how to run the stand the most efficiently.  Flip's offers a "punch card" loyalty pass, a treat for your pet, known as a puppy cone, and many different types of flavor add-ons. Keep watch for a "Sno-Cone of the Day" posted on the window and/or on their social media page as ordering this sno-cone saves you some money!
Phil played baseball for Owasso starting in ninth grade. It was during his Owasso baseball days when he earned the nickname, "Flip".  He then played 4 years in college, attending ORU while receiving his Bachelors in Finance. After graduating ORU, he moved to Oklahoma City where he attended OCU Law School and graduated May 13, 2018.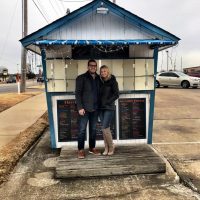 Taylor, Phil's wife, grew up at Owasso's rival high school, Broken Arrow.  She was a Varsity cheerleader for the Tigers.  After graduating high school, Taylor attended Oklahoma State University where she earned her Bachelors in Early Childhood Education.  Phil and Taylor met in their last year of college and married 18 months later and moved to Edmond.  Taylor has worked the past two years as a Pre-K teacher at Surrey Elementary in Yukon, OK.  After Phil's graduation and Taylor finishing up the school year, they will be moving back to Owasso.  Phil will begin employment with the law firm Franden Farris Quillin Goodnight & Roberts in Tulsa. Taylor has accepted a first-grade teaching position at Jenks Southeast Elementary.   
Flip's Shaved Ice is open (school time hours) Monday through Friday from 3pm – 9pm and Saturday 12pm – close. Summer hours are Monday through Saturday 12pm – close.  They are conveniently located on 86th Street in Owasso, in front of the El Tequila and Billy Sims Barbecue. Flip's has all the flavors you love and would love to see you out at the stand! 
Facebook: https://www.facebook.com/flipsshavedice86/         Website: http://flipsshavedice.squarespace.com