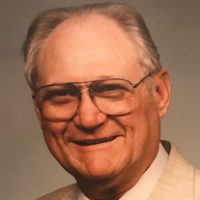 Glen was born on May 21, 1931 in Earlsboro, Oklahoma to William and Alice Atkinson. He joined the US Army when he was 16, served his country for 20 years and after retiring from the Army worked until retirement from Cities Service Oil Company. While stationed in Germany, he met Ruth. They were married for 63 years and were blessed with two children, Alice and Sam. Glen had many interests in life, mostly he loved his country, he loved God and he loved his family.
He is survived by his wife Ruth, his daughter Alice Davis and her husband Darrell, his son Sam and his wife Pye TeSelle, by his grandchildren Derrick Davis and his wife Elizabeth, Avery Davis Shrum and her husband Zach, Bailey Atkinson, Max Atkinson and one great-grandson Axton Shrum. Glen was the fifth born son out of six brothers and was the last living brother. He is also survived by the families of his cousins, nieces, nephews and great-family members living across the nation. 
Visitation will be held from 2:00 p.m. to 5:00 p.m., Sunday, March 11, 2018, at Mowery Funeral Service in Owasso. Funeral services will be held at 10:00 a.m., Monday, March 12, 2018, at Discovery Bible Fellowship Church in Owasso with Pastor Mike Frantz officiating. Committal service and interment will follow at Graceland Memorial Park Cemetery in Owasso, Oklahoma. Arrangements and services were entrusted to Mowery Funeral Service of Owasso.www.moweryfs.com
To send flowers or a memorial gift to the family of Glen L. Atkinson please visit our Sympathy Store.