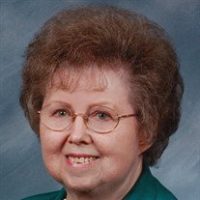 Helen Ruth Hornback was born August 20, 1929, at Howe, Oklahoma, to William Paul and Flora Oliver Epley. She died Tuesday, December 4, 2018, in Tulsa, Oklahoma, at the age of 89 years. Helen completed her secondary education at Howe and was a graduate of Howe High School. She was married August 7, 1948, at Waldron, Arkansas, to Dudley A. Hornback. She spent most of her working life as an executive secretary with Great Southern Life Insurance Company in Houston, Texas. She and Dudley moved and made their home in the Keetonville, Oklahoma, area in 1984. She was a longtime faithful member of Hilldale Baptist Church in Keetonville. Helen enjoyed a variety of pastimes, especially painting.
Loving family members include:
Aunt; Ella Jean Robinson, of Tulsa, Oklahoma
Brother-in-law; Ralph Hornback and his wife Jowanna, of Sand Springs, Oklahoma
And a host of nieces, nephews, extended family, her church family, and many friends.
She was preceded in death by her parents and her husband, Dudley Hornback.
Visitation will be held from 2:00 p.m. to 5:00 p.m. Sunday, December 9, 2018, at Mowery Funeral Service in Owasso, Oklahoma. Funeral service will be held 10:00 Monday, December 10, 2018, at Hilldale Baptist Church in Keetonville with Pastor Earl Skaggs officiating. Graveside service will be held 11:00 a.m. Tuesday, December 11, 2018, at Howe Cemetery in Howe, Oklahoma, with Pastor John Hayden Hall officiating. The family requests memorial contributions be made to the Folds of Honor Foundation, 5800 North Patriot Drive, Owasso, Oklahoma, 74055. Arrangements and services were entrusted to Mowery Funeral Service of Owasso.
www.moweryfs.co

m