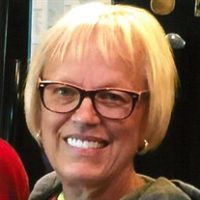 Helga Anne Bevel was born July 14, 1954, in Schweinfurt, Germany. She died Friday, July 6, 2018, in Owasso, Oklahoma, at the age of 63 years. Helga completed her education in Odessa, Texas, and was a graduate of Odessa High School. She was married September 24, 1974, in Odessa, Texas, to Dennis Bevel. She had worked for J.C. Penney, Southwestern Bell, and Smith Cline Labs, then primarily spent her life as a homemaker and caring for her family. She and Dennis had made their home in Owasso, Oklahoma, since August of 1993. She enjoyed a variety of pastimes including traveling with her RV Club Camping Club and going camping. She also enjoyed crafts and quilting.
Those she leaves behind who hold many cherished memories include:
Her husband of over 43 years; Dennis, of the home
Daughter and son-in-law; Krystal and Brandon Bruski, of Owasso
Two grandsons; Koen Bruski and Gannon Bruski
And a host of cousins and other relatives and friends.
She was preceded in death by her parents, Odis Elmore Nelson and Mary Alyene Goad Nelson.
Funeral service will be held 10:00 a.m. Thursday, July 12, 2018, at the Mowery Funeral Service Chapel in Owasso with Pastor Kevin Laufer officiating. Private family disposition will be held at a later date. The family requests memorial contributions be made to Annas Belles Ovarian Cancer Support Group, c/o Lisa Ramsey, 17310 East 116th Street North, Owasso, Oklahoma, 74055. Arrangements and services were entrusted to Mowery Funeral Service of Owasso.