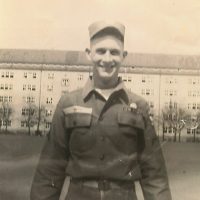 James Ray Boyd was born July 6, 1939, in Talala, Oklahoma, to James Harold and Ruth Vivian Plumer Boyd. He died Thursday, February 8, 2018, in Edmond, Oklahoma, at the age of 78 years. Jim was reared and educated in Oologah, Oklahoma, and graduated with the Oologah High School Class of 1957. He was married October 14, 1960, at the First Christian Church in Talala. He was a veteran of the armed forces having served his country honorably with the United States Army where he received the Good Conduct Medal as well as badges for Sharpshooter and Parachutist. He spent his early working life in the banking industry with First National Bank of Tulsa. He later owned and operated his own business, Tulsa Stripper Sandblasting. In his early life he attended Zion Hill Free Will Baptist Church in Oologah, and later attended Skiatook First Baptist Church and Owasso First Baptist Church. He enjoyed a variety of pastimes, especially tinkering in his garage and spending time working in the yard. He also enjoyed woodworking and restoring furniture.
Those he leaves behind who hold many cherished memories include:
His wife of over 57 years; Charlotte, of the home
Three children:
Russell Boyd and wife Cindy, of Edmond
Doug Boyd and wife Janet, of Pickerington, Ohio
Lori Taylor, of Edmond
Grandchildren; Blake Boyd and his wife Caylee, Zach Boyd and his wife Katie, Heath Boyd and
his wife Logan, Nolan Boyd and his wife Carlie, Lindsay Vick, Brandon Funk,
Kris Funk, Ashli Funk, and Gracie Funk
Eight great grandchildren
Mother; Ruth Boyd
Brothers; Bob Boyd, Fred Boyd, and Ed Boyd
Sister; Harolene Frye
He was preceded in death by his father, Harold Boyd, and brother, Dan Boyd.
Funeral service will be held 11:00 a.m. Monday, February 12, 2018, at the First Baptist Church of Talala. Committal service and interment will follow at Fairview Cemetery in Talala. Arrangements and services were entrusted to Mowery Funeral Service of Owasso.
www.moweryfs.com