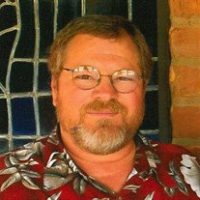 James Silas Rutherford, Jr., born October 10, 1953 in Decatur, IL to James Silas Sr. and Dorothy Ellen Rutherford, went to his eternal home with the Lord on Sunday, October 7, 2018. James grew up working on the family farm with his father in Oakley, Illinois. He played trumpet in the band and was active in FFA at Mt.Zion High School in Illinois, where he graduated in 1972. He married Debra Lou McGlade of Mt. Zion, Illinois on June 23, 1974. The couple were blessed with three children and continued to work on the family farm until they moved to Owasso, Oklahoma in 1986. The Rutherford family became active members of First Christian Church in Owasso. James started working at American Airlines as an aircraft cleaner while studying at Tulsa Vo-tech, and became an aircraft mechanic after receiving his A & P License. He worked for American Airlines for 17 years, then for American Eagle, Bombardier, Mesa Airlines and Atlantic Aviation before retiring. He enjoyed music, classic cars, tractor pulls, airshows, woodworking, building model airplanes and above all spending time with his beloved family. He will be remembered for his faith in God, strength of character and his twinkly eyes.
Those he leaves behind who hold many cherished memories include:
His wife of over 44 year, Debra Rutherford
Three Children; Amy Cook and husband Charles Cook of Owasso, OK
Dorothy Lenhart and husband Wade Lenhart of Tulsa, OK
James S. Rutherford III and wife Megan Rutherford of Tulsa, OK
Eight Grandchildren and three great-grandchildren,
Father; James S. Rutherford, Sr. and wife Phyllis of Oakley, IL
Five Sisters; Sue Kopetz and husband Mark of Oakley, IL
Loretta Rose and husband Mark of Columbus, GA
Vera Bart and husband Rob of Cerro Gordo, IL
Nancy Elizabeth Phillips of Decatur, IL
Jennifer Kraft of St. Charles, MO
He was preceded in death by his brother John Rutherford, mother Dorothy Rutherford and grandson Maxwell Cook.
Visitation will be held from 4:00 to 8:00 p.m., Thursday, October 11 at Mowery's Funeral Services in Owasso, Oklahoma. Celebration of Life Service will be held at 1:30 p.m. at First Church in Owasso, Oklahoma with Dr. Chad Broaddus officiating. Committal Service and interment will follow at Green Acres Memorial Gardens near Owasso. Arrangements and services were entrusted to Mowery Funeral Services of Owasso.