OPD Update: 3:41:51 PM

On Thursday, August 15, 2019,
at approximately 0813 hrs, Owasso E911 Center was inundated with frantic callers reporting a man standing atop the cement ledge on the barrier of US169 overlooking 66th St N.

Multiple callers reported 66th St N, however when officers arrived 2 minutes later, it was determined it was actually 56th St N. Arriving officers observed the man standing on the thin cement ledge overlooking 56th St N. Officers immediately called for Owasso Fire, EMSA, Tulsa Police and the Oklahoma Highway Patrol to respond as jurisdictions in that area are confusing.

Due to the extreme circumstances the Shift Sergeant who arrived on the scene, and in the absence of other agencies, began an immediate dialogue with the individual. An OPD Crisis Negotiator actually arrived on the scene as well, prior to OHP or TPD responding.

Since Crisis Negotiations were already underway, and the changing of Negotiators is counterproductive, Owasso Police kept control of the Crisis Scene, while TPD and OHP handled scene integrity and diverting traffic. After 2 hours of Crisis Negotiations, the individual became distracted when reaching for a refreshment offered by a Negotiator.

When this short window of opportunity presented itself the Sergeant on scene tackled the individual and pulled him from the ledge. He was combative but taken into custody.

The individual was treated by EMSA and taken into protective custody by Tulsa Police. The Sergeant sustained minor injuries from struggling on the concrete and was treated and released by Owasso FD Medics. The Northbound Lanes of US169 were closed at 56th St N for the duration of the event but quickly opened once the individual was taken into custody.

Update. Jumper is down and safe!

Owasso officer was able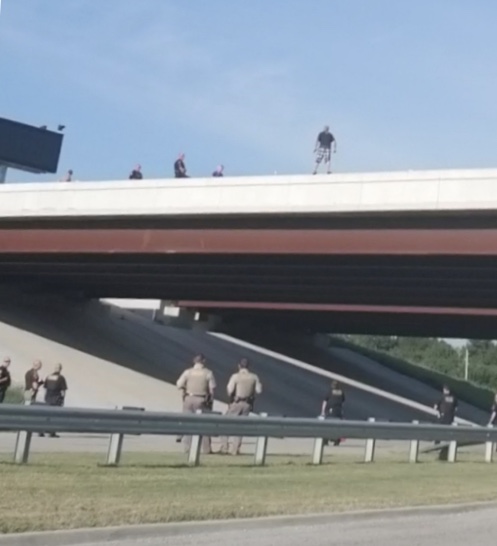 08/15/2019 – Just after 8:30 A.M. this morning Owasso Police were notified of a man walking southbound in the northbound lanes of Highway 169, walking into traffic. 
When an Owasso officer arrived the subject then climbed up on the 56th Street North bridge on the east side of the highway.  Other Owasso officers along with OHP, Tulsa Police and Tulsa County sheriffs officers then arrived on the scene. 
Highway 169 northbound lanes were shut down from 56th Street North to 66th Street North, as was 56th Street North under the bridge.
Owasso crisis negotiators attempted to talk the subject down off the bridge overpass for nearly two hours. They succeeded when he was distracted by a drink and were able to pull him down around 10:40 am.
He was then taken into protective custody by the Tulsa Police Department.