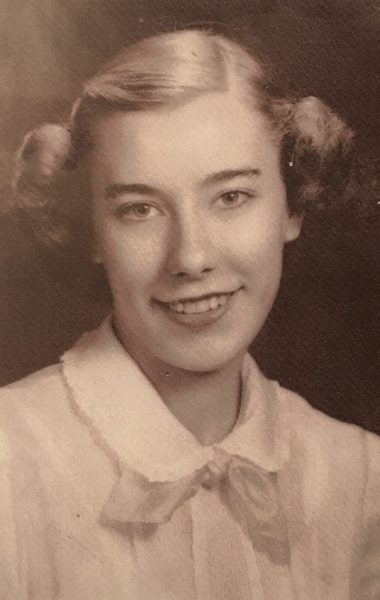 Marilyn Dolores Amber was born March 10, 1934, in Tulsa, Oklahoma, to Noah Webster and Janet Whitney Williamson. She died Monday, January 8, 2018, in Sachse, Texas, at the age of 83 years. Marilyn grew up in Tulsa, Oklahoma, lived in Northwest Arkansas for a time on the family farm, before moving back to Tulsa in 1943. She completed her secondary education and graduated with the Tulsa Central High School Class of 1951. She continued her education at Tulsa Junior College earing her Associates Degree in Business Personnel Administration. She also received a Certificate of Achievement of personal assistant. She was initiated in the Phi Theta Kappa National Honor Fraternity of Junior and Community Colleges. Marilyn was married February 10, 1955, in Tulsa, Oklahoma, to Richard Lowell Amber. They had made their home in Owasso, Oklahoma, since 1972. Marilyn worked primarily as a homemaker and caring for her family while her children were growing up. She then went to work with American Airlines in Tulsa as a retirement counselor. She enjoyed a variety of pastimes, especially craft-painting and spending time gardening.
Those she leaves behind who hold many cherished memories include:
He husband of over 62 years; Richard, of the home
Son and daughter-in-law; Dennis and Sherry Amber, of Sachse, Texas
Two daughters;
Janet Amber and her husband, Ron Terrel of Tulsa, Oklahoma
Susan Amber and her companion, Linda Duck, of Tulsa
She was preceded in death by her parents, one brother, Harold Dean Williamson, and a sister, Mildred Lee Jones.

Visitation will be held from 4:00 p.m. to 8:00 p.m. Thursday, January 11, 2018, at Mowery Funeral Service in Owasso. Funeral service will be held 11:00 a.m. Friday, January 12, 2018, at the Mowery Funeral Service Chapel in Owasso. Interment will follow at Graceland Memorial Park Cemetery in Owasso. Arrangements and services were entrusted to Mowery Funeral Service of Owasso.
www.moweryfs.com