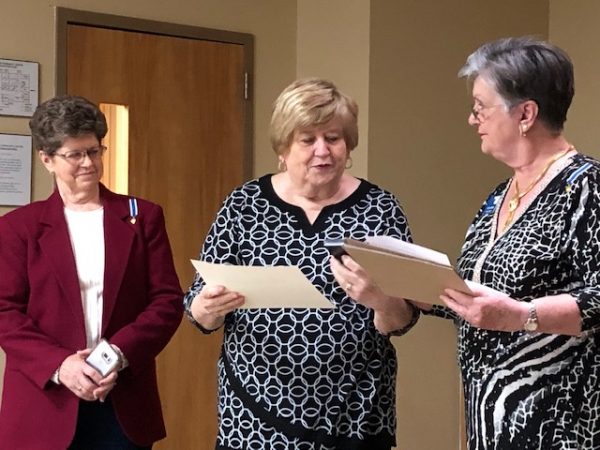 04/02/2019 – The Owasso Chapter, NSDAR presented this year's Women in American History Award to Marilyn Cook Hinkle. The award is given to a woman in history or a current woman who has shown service to the community. Marilyn Cook Hinkle has shown service to her community since she was a teenager.
Marilyn graduated from Oklahoma State University with a Bachelor's of Arts Degree In Home Management, Equipment, and Family Economics. At an early age, she was active in 4H, Future Homemaker, Girl State Delegate, and Order of Rainbow girls. As an adult, she has continued her interest in helping her community. She has been a member of the Owasso Board of Education, Owasso Planning Commission,  Owasso AFS (American Field Service), Board of Tulsa County League of Women Voters, Tulsa County Solid Waste Advisory Board, and the Metropolitan Planning Commissions.
Presently, she is employed by the City of Owasso as director of the Owasso Historical Museum, which has made great strides in its purpose to promote Owasso and its history. She is married to Dr. Norman Hinkle and has two sons, Hunter and John.