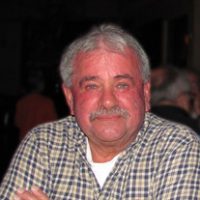 Michael Edward Stokes was born February 4, 1951, in Tulsa, Oklahoma, to Earl Edward Stokes and Julia Maxine (McCarty) Stokes. He passed from this life Wednesday, June 6, 2018, in Tulsa, Oklahoma at the age of 67 years. Michael was raised and educated in Owasso, Oklahoma and graduated with the Owasso High School Class of 1969. He married Melanie Ann (Frakes) Stokes in Claremore, Oklahoma on January 3, 1969. He spent most of his working life as an Antique Dealer most with A Place in Time, located in Claremore, Oklahoma. Michael was active with the Claremore Bass Club through the 80's and early 90's. He had a variety of pastimes such as fishing, solving crypto quotes, anything related to science and history, and traveling to Estes Park in Colorado every fall. But most of all he had a great passion for antiques. Michael would pull over and garage shop anytime he saw the opportunity. He also loved using his metal detector around his place with his grandson, Sky. Michael had a great love for schnauzers for over forty years and is survived by his current schnauzer, Rowdy. He was also an avid OU football fanatic.
Those he leaves behind who hold many cherished memories include: 
Wife;
Melanie Stokes, of Owasso
Son;
Michael Stokes and fiancé Missy, of Owasso
Grandson;
Michael "Sky" Stokes, of Owasso
Mother;
Julia Stokes, of Owasso
He was preceded in death by his Grandparents, Strawdey and Ruth McCarty, and his father, Earl.
Visitation will be held from 4:00 p.m. to 8:00 p.m. Monday, June 11, 2018 at Mowery Funeral Service. Funeral service will be held at 2:00 p.m., Tuesday, June 12, 2018, at the Mowery Funeral Service Chapel in Owasso with Kenny Asher officiating. The Family Requests in lieu of flowers that memorial donations be made in Michael's memory to Friends of Owasso Police, P.O. Box 2374, Owasso, Oklahoma 74055. Arrangements and services were entrusted to Mowery Funeral Service.