Submitted Article: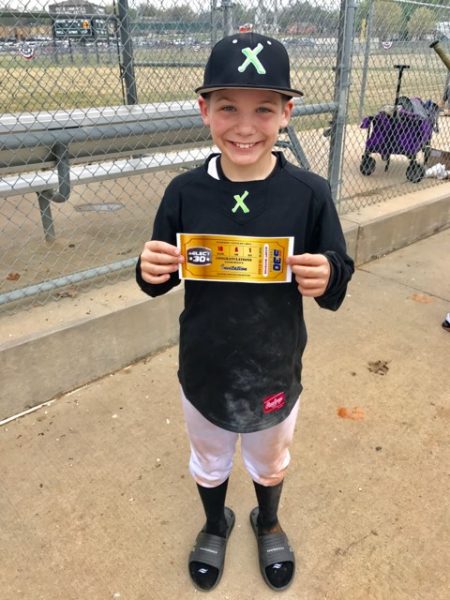 04/10/2018 – Jaxon Wadley,  a 4th-grade student at Bailey Elementary and standout Owasso baseball catcher is heading back to Florida again to compete in the USSSA select 30.
You may remember Jaxon from the article written about him last summer when he was chosen for all-American and played in the All-American games in Florida at the ESPN fields last August where he and his team took home 3rd place.
In addition to that and other awards, Jaxon also was the Home Run Derby Champion at the USSSA World series in Bixby in 2016, when he played for his previous team, the OC cardinals.  It is Jaxons most recent award that is sending him back to Florida to play. 
Jaxon recently played with Oklahoma Xplosion Elite, a Majors team out of Tulsa coached by Kyle Dean, in a Super NIT Select 30 tournament in Dallas, Texas where he and two of his teammates, Kaden Dean and Ryley Kester were chosen among hundreds of major level players by USSSA scouts to receive a Golden ticket to compete in Florida. According to the USSSA Select 30 website,
" The Select30 program is the most comprehensive player identification program in the country.  The S30 is managed by the Select 30 Task Force which is comprised of former professional players, current and former college coaches, current and former scouts, and baseball industry experts.  Throughout the season, at Select 30 Super NIT Events, hosted across the country, the Select30 Task Force will evaluate players on the 5 tools of baseball during 'live' game situations to identify the S30 Championship Prospects.  Chosen players will be issued a 'Golden Ticket' from a Select30 Task Force officially inviting them to participate in the S30 Championships."
     While baseball is Jaxon's true passion, Jaxon knows its a talent God has blessed him with and hopes to use it as a platform to Glorify him. Jaxon says, his faith is his driving force behind his passion and love for the game and his favorite verse is Phillipians 4:13. Jaxon shares that his favorite players are Bobby and Dylan Bundy. Jaxon and his older brother Ayden, a student at Owasso 6th grade center, and a pitcher, do lessons weekly with Denver Bundy at the Baseball Academy in Sperry. Jaxon has set big goals and is working hard to acheive them. His dream is to one day play baseball for Texas Christian University and eventually go on to play professionally.
Jaxon says in his spare time he enjoys playing catch with his dad, playing with his friends, fishing and playing basketball. Jaxon's mom, Paige, who is an assistant basketball coach for the recent State Champion Lady Rams, says, "that she is thankful that Jaxon has always had amazing  teammates and always played for coaches who believe in him, support him and encourage him, who've helped instill in him, such a love for the game."
Related story: http://www.owassoisms.com/owasso-student-play-american-games-espn-fields-florida/