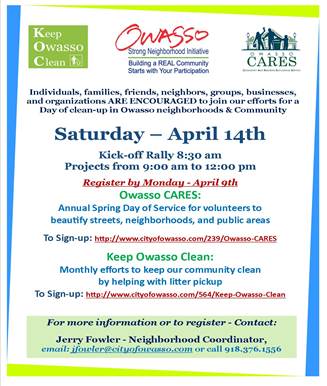 Building A REAL Community Starts With Your Participation!
SIGN-UP TODAY . . .
For April, OSNI has combined our Owasso CARES Spring Day of Service on the same Saturday as Keep Owasso Clean; * Saturday – April 14th – 8:30 am – Noon * SEE flyer for information
Individuals, families, friends, neighbors, groups, organizations and businesses  are encouraged to join the efforts for a day of clean-up in Owasso neighborhoods and around the community.
For more information or to Volunteer: http://www.cityofowasso.com/239/Owasso-CARES
** If you plan to join us, Please sign up by Monday – April 9th **