Update: 13:55:09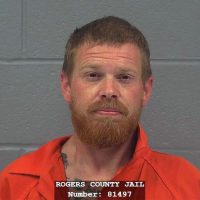 An Owasso man has now been arrested for second-degree murder after the fatal crash we reported earlier (below). Bradley Wofford, 32, was booked on complaints of driving under the influence of drugs, inattentive driving, driving with a suspended license and possession of a controlled drug.
Records say Wofford rear-ended a car that had slowed for another collision. The driver of the car, 48-year-old Coweta resident Scotty Dilbeck, died in the crash.
____________________________________________________
06/11/2019 –   Oklahoma Highway Patrol reports a fatality collision occurred June 10th at approximately 6:30 pm on US412 approximately ½ mile west of South 4180RD, 2 miles west of Inola, OK in Rogers County.
Vehicle-1, a 2001 Ford F150 driven by Bradley Wofford, 32, of Owasso.  He was not injured.
Vehicle-2, a  2015 Volkswagen GTI driven by Scotty Dilbeck,  48, of Coweta, OK.  Dilbeck was pronounced at the scene by EMS personnel from massive injuries.
Passengers:  None    
What happened:  Under Investigation
Condition of driver Vehicle-1:       Under Investigation

Cause of Collision:                      Under Investigation

Seatbelts –       Under Investigation

Weather –        Clouds present

Roadway –       Dry

Pinned –          None

Ejected –         None

Helmet –          Not Applicable

DOT Number – Not Applicable
"This report is based upon the trooper's investigation of this collision.  It may contain the opinion of the trooper."