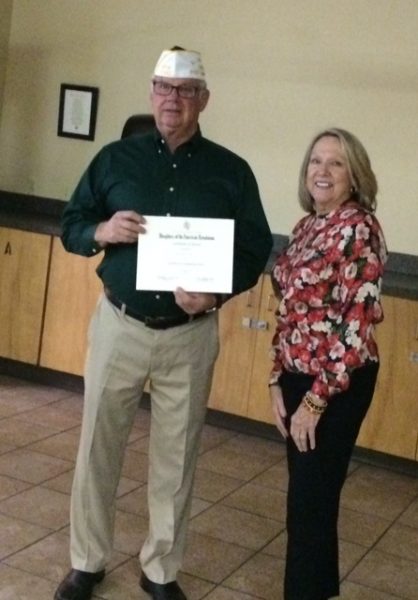 Submitted by Sue Roth, DAR
12/06/2017 – Carroll Harris has been selected as Volunteer of the Year by the Owasso Chapter, NSDAR.
The person chosen has contributed to the community in an outstanding manner through cultural, educational, humanitarian, patriotic, historical, citizenship, or environmental conservation endeavors or by organizing or participating in community activities.
Carroll Harris is a former U. S. Air Force Sr. Master Sgt having served for 23 years.  He worked for American Airlines for 19 years after retiring from the Air Force.
He and his wife Rosie have lived in Owasso over 21 years.  He is active in the Owasso Veterans of Foreign War, Post 7180, and has been Post Commander for 21 years.
He is not only a Patriot, but is an involved Citizen of the Owasso community.
Owasso Chapter Regent Linda Ward presented Carroll Harris his Certificate of Volunteer Service on December 4, 2017 at the monthly meeting.