Running a 24/7 business, we have a hard time finding time to hit the car wash very often, let alone taking the car somewhere for a complete detail. With all the recent rain, our car, a Honda CRV was in desperate need of a good bath. The doggy prints on the seats were the last straw.
I had recently contacted  a detail service that was recommended to me several times, but with no return call, so last week we gave a new local business "Anywhere Detail" a call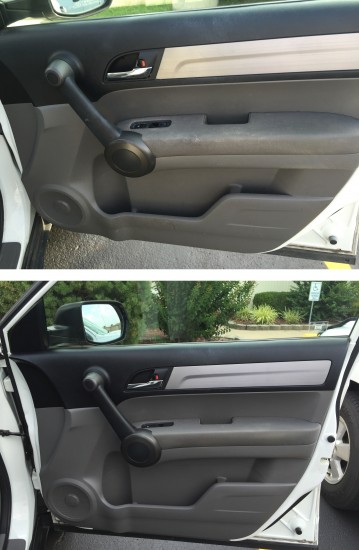 and scheduled service for this morning. The team of two, Chace and Bryan arrived at our office door at 8:00am, ready to work. We parked our car across the lot to give them a little more space and they got started. They finished at around 12:30 PM. They stated before they arrived the process usually takes 3-4 hours. I am not sure if it took longer because my car was a pit, or because they knew it was "Owassoisms" vehicle. I am not complaining as they did an awesome job. They also had several other office tenants come up to them while they were working,  asking about their services which took a little time.
Their Facebook page states "Here at Anywhere Detail we use a water-less wash system that allows us to detail your car or boat anywhere that you are. We're a fully-mobile service!"
I will admit, the waterless part worried me. I wasn't sure how it was possible to clean the outside of a car without water. Let me say I still do not understand it, but it works! We decided on the basic detail and a hand wax. They also used a clay bar where needed. 
They described the clay bar as "a bar of clay that picks up and removes debris, road grime, rail dust and other nasty things that stick to the car and cause damage. It also removes small and fine surface scuffs/scratches" and it did the job.
When they were through, there were a couple itty bitty spots left on the carpet that would not come out, but they got so much more clean than I thought they would , so I was excited. No more doggy prints!

The CRV looks amazing. Clean, shiny and smells brand new. Maybe I can hold off on that new car just a little bit longer.
The two were professional, very friendly and very courteous.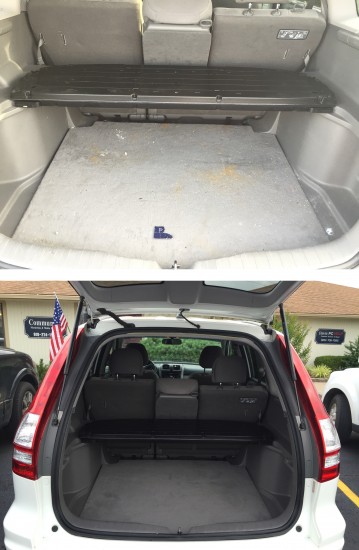 Would I recommend these guys? In  a heart beat! The detail we received runs about $120.  They have   a la carte and add on services as well.
Here's how you can contact Anywhere Detail:
Facebook link:  Anywhere Detail     Here you will find lots of before and after pics and information about their services.
You can reach them by email at: [email protected]

Give them a call:  Chace Chezem 918-740-6554 or Bryan Neuberger 918-951-3500