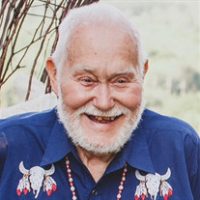 Roy Darrell Hayes was born January 18, 1933 in Stroud, OK to Archie Otto Hayes and Mattie Maybelle Hull. His younger days were spent moving from town to town as his dad followed road crews building roads all over the state of Oklahoma. Finally settling in the Union community where Darrell met the love of his life Barbara Bumgarner. On November 10, 1951 the two snuck away and were married by the Justice of the Peace. The young couple quickly began their family Roy Darrell Jr, Dennis, Daniel and Dedra. Darrell worked hard all his life providing for his family. He worked throughout the years for McDonnell Douglas and retired in 1993. Darrell was a hardworking man that enjoyed woodworking, gardening, fishing, riding his bicycle, four wheeler, lawn mower and tractor.
Never losing sight of his faith, nor giving up on one day getting stronger. He was an inspiration to many lives throughout his 85 years.
Darrell was preceded in death by his first-born son Darrell Jr, his parents Archie and Mattie, and in 2009 his wife of 58 years Barbara. He is survived by his son Dennis Hayes of Bozeman, MT, Daniel and wife Cyndi Hayes of Owasso, and daughter Dedra Hayes of Claremore. His grandchildren Brian Hayes, Michelle Hayes-Harrel, Branon Hayes, Leslie Hayes, Daniel Hayes Jr, Hanna Hayes-Battenfield, and Rachel Landers, eleven great grandchildren and sister Archalene and Dale Arnold of Broken Arrow. And very special friends and neighbor Don Hill and Cheri Lewis.
 
A memorial service will be held at 10:00 a.m., Friday, May 18, 2018 at the Mowery Funeral Service Chapel. Arrangements and services were entrusted to Mowery Funeral Service.www.moweryfs.com