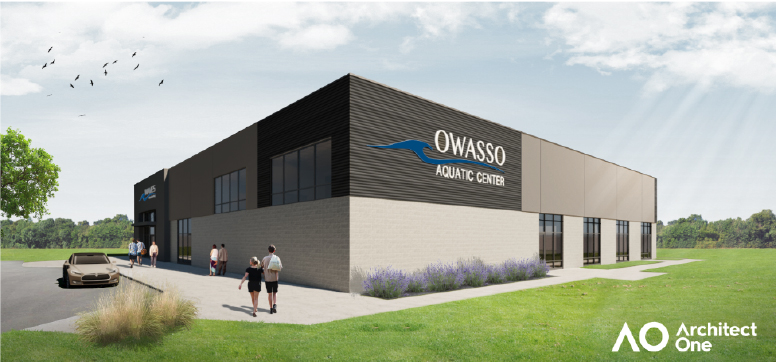 05/13/2019 – Trident Aquatics announced today it is breaking ground on a new 18,000 square foot aquatic center in Owasso, OK. The 2-pool facility will be home to Waves Swim Academy for teaching youth thru adults to swim, and to Trident Aquatics, a local USA Swimming-sanctioned Competitive Team. The facility will be located on 3 acres just east of the St. John Medical Campus, northeast of Sam's Club. (US 169, 96th Street exit).
The facility will house two pools, a world-class, eight-lane competition pool, and a warmer, shallow teaching pool. Working in conjunction with USA Swimming, based at the Olympic Training Center in Colorado Springs, CO, the competition pool will incorporate state of the art technology to allow athletes to leverage the very latest technology available to swimmers at the highest levels. A second pool will provide the perfect venue to teach youngsters water safety and how to swim in a comfortable, fun and safe environment.
Trident has trained swimmers from around the Tulsa area since 2014 and has placed swimmers at the State, Regional and National Levels, including the 2016 Olympic Trials. Over 65% of graduating athletes in their program have gone on to swim at the collegiate level, with most receiving meaningful scholarships. "We are thrilled to be building a world-class teaching and training facility right here in Owasso," said Sean Callan, Trident's founder, and Owasso resident. "Swimming is a sport that, at a young age, can save lives and as children grow, provide an outstanding, safe competitive sport that can lead to national-level competition, college scholarships, and Master's or triathlete swimming into adulthood. There are few sports that one can enjoy for their entire life, whether it be for sustaining a healthy lifestyle or for the love of competing."  Furthermore, a well-designed aquatic center can serve our community, regardless of age. "There'll be programs available for everyone, of every age. Swimming can be a lifelong activity and has been shown to have countless mental, physical and developmental benefits. The statistics regarding child drownings are disheartening, and learning to swim should be a must for every child".
The aquatic center will also foster economic activity thru swim lessons, weekend clinics, healthy living programs, swim meets, and bolster Owasso's ability to recruit great families to our community.
Trident has been training its athletes at the Claremore Recreation Center for five years, and "intends to continue to bolster their great relationship with Claremore and the Rec Center's management," said Callan. "Some of our finest athletes, and member families are Claremore natives and it's only makes sense to continue to serve this area as well. Claremore and the Recreation Center team have been outstanding supporters of Trident for five years now, and we look forward to continuing our great relationship."
Trident is proud to partner with Koehn Construction Services, Fredonia, Kansas, as the project's General Contractor. Per Lyle Koehn, "We look forward to working in Owasso and utilizing many local contractors and supplier for this exciting project!"