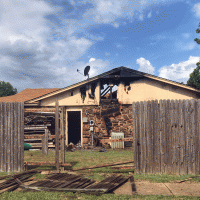 07/15/2018 – Owasso Firefighters were kept busy Saturday with two large structure fires.
At 9:30 PM  Saturday evening, a neighbor reported a house fire at a home across from their residence at 23rd and Dogwood.  They stated that visible flames were seen.  When firefighters arrived the house it was engulfed in flames.
Three units fought the flames for over an hour before it was contained.  The home appears to be a total loss.  There were no reported injuries, and no one was home at the time.
_________________
At around 5:00 PM Saturday, fire units were called to a fire in the area of 106th Street North and Sheridan, where a barn was on fire.  A passerby saw the flames and called 911.
Due to the rural location, the closest fire hydrant was over 1/2 mile away. Water tankers had to be used, with it taking over half an hour to contain the blaze. 
Owners Ken and Ruth Peacock were at their home nextdoor at the time, and no one was injured.
Ruth Peacock shared the video below on her Facebook page as firefighters were fighting the flames.
Fire crews believe lightning may have started the fire, but the cause is still under investigation.