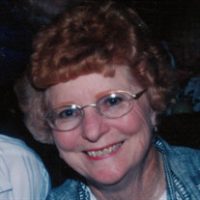 Sylvia Jane West was born February 23, 1936, in Ringgold, Texas to Lee Stout and Beatrice (Hudson) Stout. She passed from this life on Monday, August 6, 2018, in Owasso, Oklahoma, at the age of 82 years. Sylvia graduated from Fort Worth Technical High School Class of 1954. After high school she worked as a switchboard operator with Southwestern Bell. She married Richard Ray West on November 25, 1954. After living in Kansas City, MO, Washington, D.C., and Tulsa, they settled in Oklahoma City, OK in 1962. Sylvia worked as a secretary for several companies over the years. She enjoyed a variety of past times such as playing volleyball, attending arts and crafts festivals, traveling with their RV club, and loving on her dogs.
Those she leaves behind who hold many cherished memories include:
Son:
Raymond West and wife Teresa, of Tecumseh, OK
Daughter;
Robin Chase and husband Terry, of Owasso
8 Grandchildren;
Ryan West, of Dallas, TX
Rachel Lam and husband Jerimy, of Choctaw, OK
Dani Voigt and husband Carey of Oklahoma City
Mariah Washington, of Oklahoma City
Madison Chase, of Owasso
Lauren Chase, of Owasso
Emilie Lopez and husband Justin, of Holloman Air Force Base
Tiffanie Owens, of Tecumseh
7 Great Grandchildren;
Alanna West, Brenlee and Reilly Lam, Corbin and Garrett Voigt, and Ava and
Lyla Washington.
2 Sisters;
Ethel Duggan, of Crowley, TX
Dorothy Deloy, of Nocona, TX
She was preceded in death by her parents, Lee and Beatrice, brothers Billy Joe,
Harold, Pete, and Irby; and sisters, Elva Lee, Dean, and Oneida, and her husband,
Richard.
Memorial service will be held 2:00 p.m. Friday, August 10, 2018 at the Mowery Funeral Service Chapel with Reverend Leonard Pirtle officiating. Interment will be held at Graceland Memorial Park Cemetery in Owasso, Oklahoma. Arrangements and services were entrusted to Mowery Funeral Service of Owasso. www.moweryfs.com