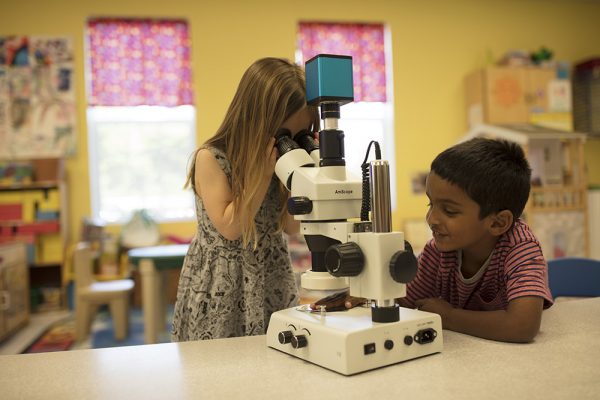 12/19/2019 – For more than 30 years, The Goddard School has been a trusted name among families. Its classrooms are safe, nurturing environments for children six weeks to six years, offering age-appropriate opportunities to explore and discover.
At The Goddard School of Owasso, OK, the on-site owner, Katrina Rogers, works to make sure every family enjoys a warm, positive experience. "We strive to provide the highest quality program for each child," she says. "Our play-based F.L.EX.® Learning Program ensures that we meet high standards specific to early learning, development and care."
The F.L.EX.® Learning Program (Fun Learning Experience) is grounded in research on how children learn best: children experience the deepest, most genuine learning when they are having fun. It's designed to help build each child's emotional, academic, social, creative and physical skills – including 21st-century skills such as communication, collaboration, creativity and critical thinking – to provide a well-rounded experience and help each one become school-ready, career-ready and life-ready.
21st-century skills also tie in directly with STEAM learning (science, technology, engineering, arts and mathematics). STEAM-related jobs make up one of the fastest-growing segments of the U.S. economy. This is expected to increase over time as children eventually join the workforce. Today, however, too few college graduates are pursuing STEAM-related careers. The Goddard School of Owasso introduces STEAM concepts early on to help promote children's natural curiosity in these subjects, increasing the chance that children will pursue STEAM-related careers later on in life.
It is not enough to simply introduce STEAM learning to children, though. These concepts should be presented in a fun, playful way. The School offers enrichment programs, which are provided at no additional cost, that have been thoughtfully designed to reinforce STEAM learning and help children develop valuable 21st-century skills. 
These programs encourage young learners to make their own choices, solve problems and explore their passions and interests independently through fun, hands-on activities. Experiential learning helps children develop perseverance and social-emotional intelligence, which are crucial for success in school and in life.
Speaking of success, analysis of Children's Progress Academic Assessment (CPAA) data show that Goddard School students score 45% higher on math and literacy assessments than their non-Goddard peers. These findings were verified by Hanover Research, an independent third-party research firm. The CPAA is an early childhood assessment system that assists teachers in making informed and individualized instructional decisions.
Goddard School teachers play an active role in each child's education and development, setting the stage for a fun, engaging learning environment. These enthusiastic, creative educators design unique, personalized lesson plans to captivate your child.
The faculty also looks for learning opportunities that correspond with the students' natural interests. For example, if an insect flies into the room and the children are captivated by it, teachers adapt the lesson to talk about insect life.
Parents can also help encourage their children's interests by turning their homes into mini laboratories. This can be as simple as introducing children to things like cooking and gardening. Here are three examples of easy STEAM experiments that can be performed at home:
Milk Fireworks: Pour whole milk into a baking pan. Add drops of red and blue food coloring. Add a "squirt" or two of dishwashing liquid, and watch the colors burst and swirl! When the "fireworks" slow down, add another couple of drops of dishwashing liquid to get them going again. Explanation: The soap separates the fat from the other liquids in the milk, causing patterns to appear.
Dancing Raisins: Put raisins (or dried corn or macaroni) in a clear cup. Fill the cup with lemon-lime soda. Watch how the raisins bob and sink in the cup. Ask the child what makes the raisins do this. Explanation: The gas bubbles in the soda lift each raisin up, and when the bubbles reach the surface and pop, the raisins sink.
Salt & Vinegar Pennies: Put ¼ cup of white vinegar into a clear plastic or glass bowl. Add one teaspoon of table salt and stir until the salt dissolves. Dip a dull, dirty penny halfway into the liquid, holding it there for 10 to 20 seconds. Remove the penny from the liquid. What does the child see? Explanation: Salt and vinegar create a weak acid that dissolves copper oxide, which is the tarnish on a dull penny.
Not all learning should take place in the classroom or inside the home, though. Spending time outside provides excellent opportunities for meaningful, fun learning. Two examples of outdoor, hands-on activities are:
The Behavior of Water: Children pour water onto different ground areas and observe how the water moves and absorbs into the ground. They discuss the differences they observe. Are they able to do anything to the ground to make the water absorb faster or run off quickly and not absorb?
Insect Investigation: With crayons and paper in hand, children search for insects. Once they find one, they observe it, draw it and describe what it is doing. A parent can guide conversations about why insects have specific features, what they do with those features and how it helps the insects survive.
For more information or to schedule a tour, please visit GoddardSchool.com/OwassoOK or call 918-272-1514. The Goddard School of Owasso is located at 14600 E. 89th Street N., Owasso, OK.