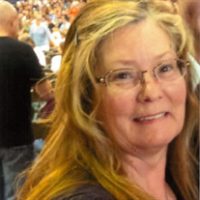 Vicki Lynn Mullis was born January 17, 1966, in Tulsa, Oklahoma, to Walter Leon and Betty Inez McAnelly Sallee. She died Wednesday, May 9, 2018, in Claremore, Oklahoma, at the age of 52 years. Vicki was reared and educated in Tulsa, Oklahoma, and graduated with the Portroad Christian Academy High School Class of 1984. She spent most of her working life as a medical records specialist with Urological Specialists of Oklahoma. She was a strong woman of faith and was a longtime member of Trinity Holiness Assembly of God in Owasso. Vicki enjoyed a variety of pastimes including bowling and was a big fan of NASCAR and sprint car racing. She also enjoyed music and attending gospel singings. She loved going on walks, especially with her dog Bailey.
Those she leaves behind who hold many cherished memories include:
Four children;
Brandon Mullis and wife Shelly, of Verdigris, Oklahoma
Kyle Mullis and girlfriend Talia Woltz and her son Cash, of Owasso, Oklahoma
Michalla Coleman and husband Vernon, of Owasso, Oklahoma
Cody Mullis and wife Delisha, of Siloam Springs, Arkansas
Four grandchildren; Kohner and Karson Mullis, and Seth and Adyson Freeman
Sister; Cathey Sallee, of Verdigris, Oklahoma
Parents; Leon and Betty Sallee, of Verdigris, Oklahoma
And a host of aunts, uncles, cousins, and other relatives and friends.
Visitation will be held from 1:00 p.m. to 5:00 p.m. Sunday, May 13, 2018, at Mowery Funeral Service in Owasso. Funeral service will be held 10:00 a.m. Monday, May 14, 2018, at the Trinity Holiness Assembly of God in Owasso with Pastor Michael Abel and Pastor James Brown officiating. Serving as casket bearers will be Brandon Mullis, Cody Mullis, Kyle Mullis, Lester Mullis, Jason Brumley, and Billy Ray McAnelly. Committal service and interment will follow at Woodlawn Cemetery in Claremore, Oklahoma. Arrangements and services were entrusted to Mowery Funeral Service of Owasso.
www.moweryfs.com