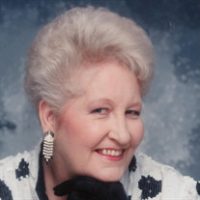 Wanda Louise Edwards was born September 28, 1927, in Hugo, Oklahoma, to Horace and Betty Boaz Fennel. She died Wednesday, June 6, 2018, at her home in Afton, Oklahoma, at the age of 90 years. Wanda was married October 1, 1983, in Dallas, Texas, to Robert L. Edwards. She spent much of her working life as a homemaker and caring for her family. She enjoyed a variety of pastimes including going to the Casino to play the slots, as well as winning on many occasions. She was also a talented shuffleboard player and competed winning several trophies. She also cherished her role as a wife, mother, and grandma.
Those she leaves behind who hold many cherished memories include:
Two daughters and sons-in-law;
Robbin and Joe Zabienski, of Wylie, Texas
Rebecca DeGraw and Richard Beetz, of Monkey Island, Oklahoma
Two grandsons;
Austin DeGraw, of Owasso, Oklahoma
Hunter Boies and wife Olivia, of Adair, Oklahoma
Great granddaughter; Lorrie Boies
She was preceded in death by her parents, her husband, Robert, son, Robert Louis Mecalo, grandson, Lance Anthony DeGraw, two sisters, Darlene Pecikonis and Sammie Joyce Barnes.
Visitation will be held from 6:00 p.m. to 8:00 p.m. Monday, June 11, 2018, at Mowery Funeral Service in Owasso. Graveside funeral service will be held 1:00 p.m. Tuesday, June 12, 2018, at Oak Grove Memorial Gardens in Irving, Texas. The family requests memorial contributions be made to the St. Jude Children's Research Hospital, 501 St. Jude Place, Memphis, Tennessee, 38105. Arrangements and services were entrusted to Mowery Funeral Service in Owasso.www.moweryfs.com