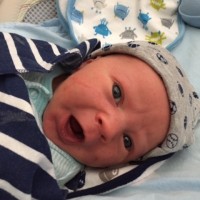 Tom and Debbie Austin of Owasso are pleased to announce the birth of their sixth grandchild, Alexander Thomas Austin.
Alexander was born Monday, April 11, 2016 in Plano, Texas to Jeffrey and Lauren Austin. Jeffrey is a 2003 Owasso High School Graduate.
Alexander weighed in at 7lbs 12 oz. and was 21 inches long.  He was welcomed by his sister Gabriella Ranee Austin who will be 2 in May.
Maternal grandparents are Rex an Sherry Thain of Farmersville, Texas.