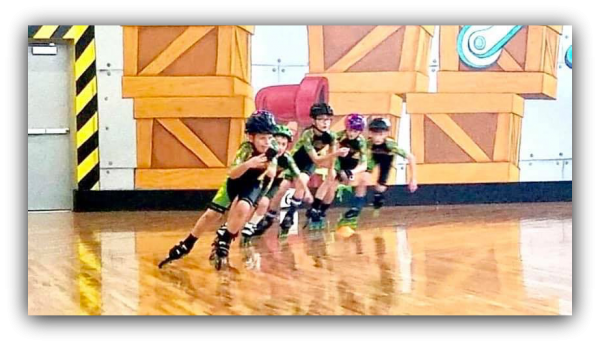 11/04/2019 – Wheels and Thrills Family Entertainment Center in Owasso has scheduled its 1st Annual MSSL Speed Meet. It has been over 35 years since a speed meet has been held in Owasso, and they are thrilled to be bringing it back.
The competition entails speed skaters racing at around the 100-meter track on the flat maple wood floor track, freshly coated with an epoxy coating for maximum speeds.
The event is similar to a track meet with distances and format but on skates or wheels. Unlike a track meet, skaters do not have designated lanes, so the possibility of wipeouts are limitless.
The sport is often compared to "ice speedskating" that you see in the Olympics, where skaters race around an oval track, making exciting passes, speed with speed and endurance to win.  This is the same sport Apollo Ohno made famous, who started skating in a rink himself.
Many of today's top U.S. Olympic Ice Speed Skaters came from inline speed skating backgrounds, introduced to the sport at a roller rink.
Races will be held on both traditional skates and inline skates (rollerblades) separately.
Competitors range in ages from 3years to over 65 with both men and women competing.  Skaters will be racing in their appropriate age groups respectively.  Competitors will be coming to compete from as far away as Tennessee.
Speed on Inline skates from the Elite Men's Group can reach up to 29mph indoors. Races can come down to photo finishes at the finish line, which is very engaging,  getting the crowds extremely excited.
The event will be held on Sunday, November 10.  Doors open at 5:30 am, continuing until 2 pm.  Spectators are admitted free of charge.