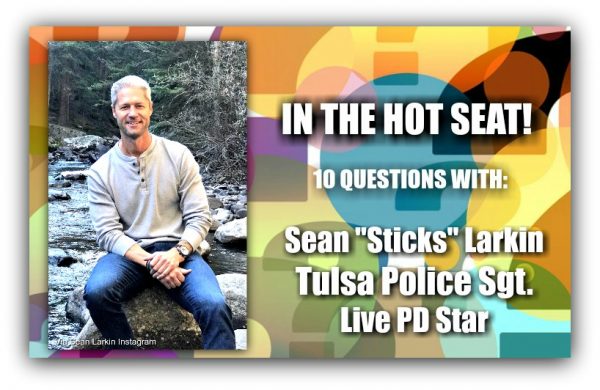 04/09/2019 – Today's Hot Seat Guest is Gang Unit Sgt. Sean Larkin with the Tulsa Police Department.  
Larkin is also a regular co-host Friday and Saturday nights on LivePD on A&E, and last year began hosting his own show "PD Cam."
We are excited Sgt. Larkin agreed to play along with our Hot Seat feature, so here you go:
1. Describe yourself in three words.
Tall, gray, open-minded
2. Strangest food you have ever eaten?
Escargot
3. What are your pet peeves?
Easy one…people that wear sunglasses indoors, talking on your phone while checking out at a cashier and talking on your speakerphone (or FaceTime) in public areas.
4. What do you like to do in your free time?
Spend time with my two children, CrossFit and have recently taken up mountain biking.
5. What is something on your bucket list?
To Skydive
6. What makes you laugh?
As silly as it sounds, hearing babies laugh
7. What would you do if you won the lottery?
Take my whole squad on a long vacation..beaches, cocktails, and no phones.
8. When you were younger, what did you want to be when you grew up?
Police Officer or a pro-sports team doctor.
9. What is something most people don't know about you?
Watched then rookie Clay Buchholz throw a no-hitter in Fenway Park…one of the coolest things I've ever been a part of
10. What has the experience of joining LivePD been like for you?
UNBELIEVABLE! It's like living two completely different lives all in one week….single dad/cop that works with a great group of officers chasing violent offenders part of the week, hanging out with great people on the #1 Friday and Saturday night cable television show the other part of the week… it's nuts! It's allowed me to have so many positive contacts with the public not only in the Tulsa area but across the country.