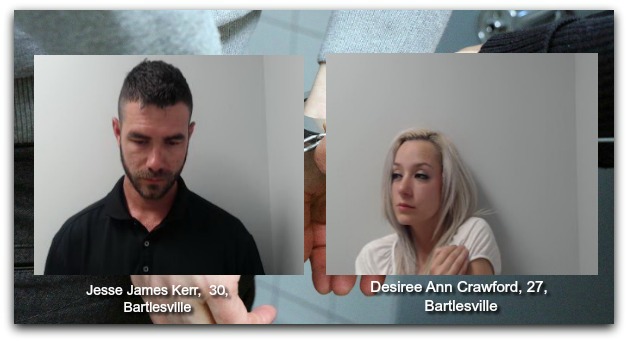 Owasso Police Release:
05/16/2019 – An Owasso officer on routine patrol Thursday morning, around 12:30 AM observed a vehicle traveling eastbound on East 116 Street North at 66mph in a 40mph zone.  The officer initiated a traffic stop with the vehicle, but as the vehicle came to a stop, he observed the driver climb over into the passenger seat and the passenger moved into the driver's seat.
The officer made contact with the person who had moved into the driver's seat, identified as Desiree Crawford, as well as the original driver, Jesse Kerr, who was now sitting in the passenger seat.  While conversing with the couple, the officer detected signs that both Crawford and Kerr may be under the influence of alcohol.  A records check revealed that Kerr's driver's license was suspended and he had previous convictions for DUI.   
After a field sobriety test, Kerr was arrested for Driving Under the Influence, Driving Under Suspension,  and Speeding. 
Because Crawford had moved into the driver's seat prior to the officer making contact, she was also legally in control of the vehicle.  After a field sobriety test, she was arrested for being in Actual Physical Control of a Motor Vehicle While Intoxicated.