The Owasso Chapter, NSDAR held its 10th Anniversary with a reception on February 4, 2019 at the Owasso Community Center. Guests were State Regent Sue Allen, Honorable Past State Regent Orriene Denslow, District Director Vandelia Graham, retired AF Colonel Crystal Epperson, Kaitlyn Pinkerton ( Jr. Miss Cherokee), Arden Wilkinson, and Carroll Harris of VFW, and guest speaker Dr. Michael Horton.
Boy Scout Troop #2002 from St. Henry's Catholic Church posted the Colors and
led us in the Pledge of Allegiance.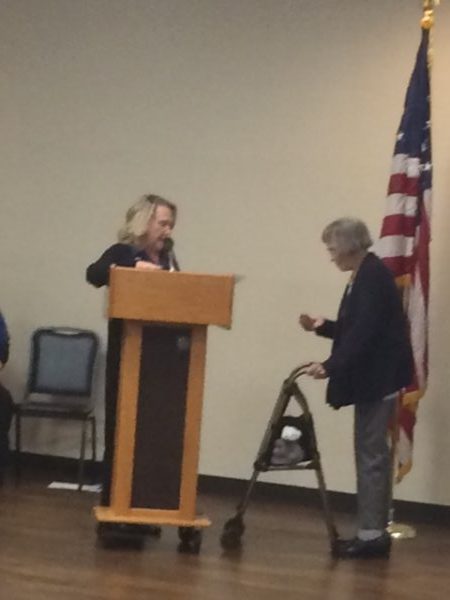 Kaitlyn Pinkerton, Jr. Miss Cherokee, sang the Star Spangled Banner in Cherokee and English.
Chapter Regent Linda Ward opened with a slide presentation of pictures showing the history of the chapter during the past ten years. Regent Ward presented the
Vietnam Recognition pin to Colonel Crystal Epperson, who is a 93-year old veteran
of the United State Air Force.
Guest speaker Dr. Michael Horton spoke about the Coffee Bunker in Tulsa. The Coffee Bunker provides a meeting place for veterans where they can meet, talk, rest and get a meal. It is the only place in Tulsa that caters to veterans in this way.
The Owasso Chapter began organizing in 2008, and was officially organized on Feb. 2, 2009, and confirmed on February 7, 2009.
The National Society Daughters of the American Revolution has its mission in promoting Historic Preservation, Education, and Patriotism. These timeless, overarching principles keep the DAR strong and vitally relevant in this everchanging world.