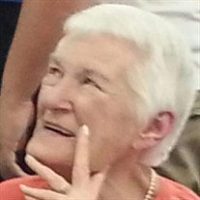 Polly Ann Winters was born March 23, 1933, in San Angelo, Texas to John Howell Winters and Mary Viola (Sewell) Winters. She passed from this life on Thursday, October 4, 2018, in Tulsa, Oklahoma, at the age of 85 years. Polly was raised and educated in San Angelo and moved to Coweta, Oklahoma at the age of 16, where she graduated with the Coweta High School Class of 1950. She spent most of her working Life as a switchboard operator / receptionist at several local companies and later retired from Tulsa Senior Services. Polly moved to Owasso in 2003 and faithfully served the Lord and joined First Baptist Church of Owasso. She had variety of pastimes such as traveling, reading, writing poetry, embroidery work, cooking, gardening and visiting museums, but more than anything Polly loved her family.
Those she leaves behind who hold many cherished memories include:
2 Daughters;
Kathy Cabanaw and husband Boyd, of Owasso
Phyllis Hampton and husband Dick, of Garden City, New York
2 Sons;
Phillip Bates and wife Doreen, of Broken Arrow
Terry Bates, of Tulsa
Brother;
John Winters, Jr., of Coweta
Sister in law;
Gay Winters, of Collinsville
10 Grandchildren and 13 Great Grandchildren
She was preceded in death by her parents, John and Mary, son, Michael, daughter, Vickie, brother, Samuel, sister, Eva Joyce, Brother in Law, James, Sister in Law, Yolanda.
Visitation will be held from 4:00 to 8:00 p.m. on Monday, October 8, 2018 at Mowery Funeral Service. Funeral service will be held 2:00 p.m. Tuesday, October 9, 2018 at Friendship Baptist Church in Owasso with Pastor Mike Gleason and Pastor Jeff Smith officiating. In lieu of flowers, the family requests memorial donations be made in Polly's memory to Clarehouse, 7617 South Mingo Road, Tulsa, OK 74133. Arrangements and services were entrusted to Mowery Funeral Service of Owasso.