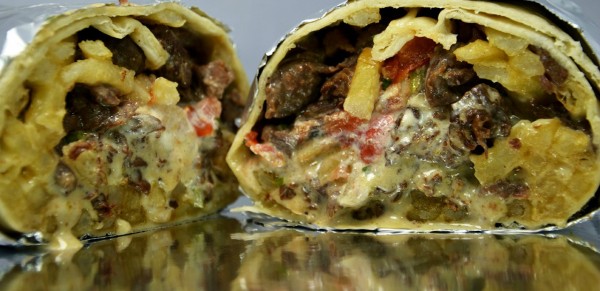 The tropical flavors of Baja California come alive any time you visit Baja Jack's in Owasso.  Today they have blended their traditional California flare with Oklahoma traditions to bring you the "Cali-Okie Burrito."
The (giant) Cali-Okie is a blend of steak, pico de gallo , queso and sour cream, blended with  crispy fries and rolled together in a giant flour tortilla.  It is definitely a new "must have" for our oh so frequent visits to the house that Jack built. 
Owner Jack Coleman said he tried several varieties of french fries until he found the right "crunch factor" for his new creation.
You can order the new Cali-Okie beginning today, but you won't find it on the menu. Instead, it is on their "super secret menu" so you have to ask for it at the register.  (the super secret menu is awesome by the way)
Try one soon, you wont be sorry! One word of advise… bring your appetite!
Baja Jacks Burrito Shack is located at 9045 N 121st East Ave in Owasso. 
You can find Baja Jack's on Facebook by clicking here.
Happy eating!