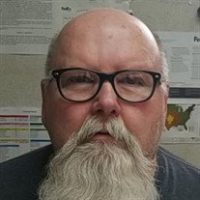 V. Lynn Newman was born August 18, 1955, in Tulsa, Oklahoma, to Raymond Claude and Iva Jean Bradley Newman. He died at his home after a brief illness Monday, October 8, 2018, at the age of 63 years. Lynn was reared and educated in Tulsa and graduated with the Will Rogers High School Class of 1973. He was married October 12, 1980, in Las Vegas, Nevada, to Debbie Brown. He spent most of his working life as a sales manager with Aircraft Specialties Services in Tulsa. Lynn was a most unique individual and enjoyed life, along with those around him. He had variety of pastimes and was particularly fond of vintage cars and trucks. He was in process of rebuilding a 1925 Ford Roadster, also known as "the T-bucket". He especially enjoyed his role as Papa to his grandkids whom he dearly loved.
Those he leaves behind who hold many cherished memories include:
His wife of nearly 38 years; Debbie, of the home
Two sons; Justin Newman, of Owasso
Brandon Newman and wife Allison, of Owasso
Six grandchildren; Jadyn, Keagan, Raygen, Kinsleigh, Elaina, and Sadee
Sister; Linda Newman, of Owasso
He was preceded in death by his parents, Ray and Iva Newman, and his father-in-law and mother-in-law, Jack and Joyce Brown.
Visitation will be held from 4:00 p.m. to 8:00 p.m. Thursday, October 11, 2018, at Mowery Funeral Service in Owasso. Funeral service will be held 10:00 Friday, October 12, 2018, at the Mowery Funeral Service Chapel in Owasso with Harold Lehman officiating. Serving as casket bearers will be Chad Jacobs, Mike Holley, Tommy McDonough, Matt Nelson, Michael Anderson, and Tommy Connor. Honorary casket bearers will be Charlie Ramsey, Scott Bradley, Danny Bowling, and Larry Brown. Committal service and interment will follow at Graceland Memorial Park Cemetery in Owasso. The family requests memorial contributions be made to the Pulmonary Fibrosis Foundation, 230 East Ohio Street, Suite 500, Chicago, Illinois, 60611. Arrangements and services were entrusted to Mowery Funeral Service of Owasso.