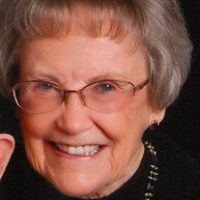 Gwenda Lee Biggs was born January 17, 1933 in Langdon, Kansas to Harry Everett Reed and Irene (Dombaugh) Reed. She passed from this life on Tuesday, August 28, 2018, in Tulsa, Oklahoma, at the age of 85 years. Gwenda was raised and educated near Attica, Kansas and graduated with the Attica High School Class of 1951. After high school she attended one year of college at Kansas State University and one year at Independence Junior College. Gwenda married Hugh Biggs Jr. in Independence, Kansas on March 7, 1953. She spent most of her working life as a clerk for Benton Savings and Loans in Benton, Arkansas, Gwenda has been a faithful member of First United Methodist Church in Owasso for over 11 years. She enjoyed a variety of pastimes such as volunteering as a Den Mother with Cub Scouts when her boys were younger, knitting, sewing, and playing golf.
Those she leaves behind who hold many cherished memories include:
Husband;
Hugh Biggs Jr., of Owasso
2 Sons;
Hal Biggs and wife Kathy, of Claremore
Tim Biggs and wife Karen, of Little Rock, Arkansas
2 Grandsons;
Matthew Biggs, of Skiatook
Jacob Biggs, of Skiatook
She was preceded in death by her parents, Harry and Irene, and her brother, Carl.
Memorial service will be held 11:00 a.m. Friday, September 7, 2018 at First United Methodist Church in Owasso with Pastor Jim Cinocca officiating. In lieu of flowers, the family requests memorial donations be made in Gwenda's memory to Clarehouse of Tulsa, 7617 S. Mingo Rd., Tulsa, OK 74133. Arrangements and services were entrusted to Mowery Funeral Service of Owasso.