Need for Blood Increases as Holidays Approach:
Special Edition Holiday Shirt Available through Jan. 31, 2018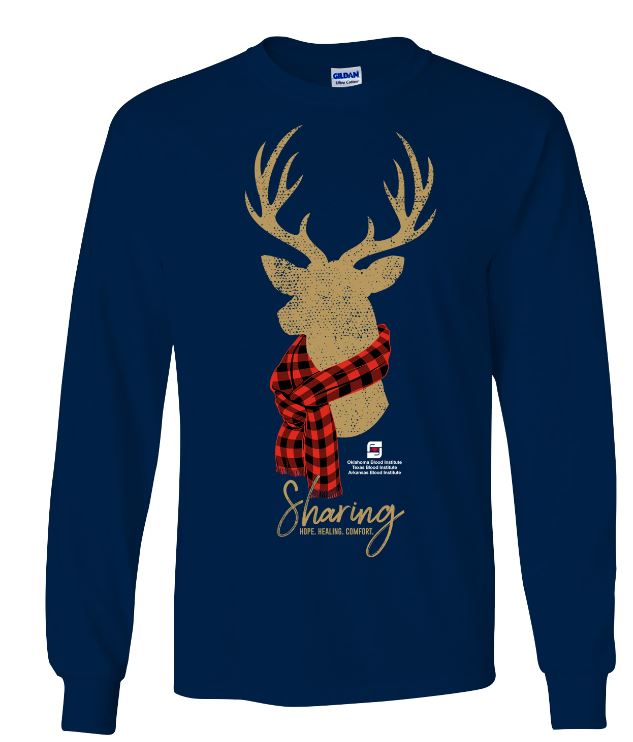 December 4, 2017  ─ Oklahoma Blood Institute needs generous donors to share the priceless gift of saving lives this holiday season. 
This busy time takes a toll on the blood supply for area hospitals, but the need does not decrease.  That's why Oklahoma Blood Institute is encouraging donors to give blood now to help prepare for the holidays, so the supply stays at levels necessary for live-saving procedures.
Now through January 31, 2018, each blood donor will receive a free, limited edition, long-sleeved holiday-themed t-shirt. 
"The gift of blood donation is one that offers hope, healing, and comfort to local patients and their loved ones," said John Armitage, M.D., president and CEO of Oklahoma Blood Institute.  "The cost- just one hour of your time- is certainly less than other gifts most of us will give this season.  But there's nothing that has a greater impact."
Donors also receive health screenings and Donor Rewards points, redeemable at Oklahoma Blood Institute's online store. 
One blood donation can save as many as three lives, and the supply must be constantly renewed.  If donors opt not to take the t-shirt, Oklahoma Blood Institute will make a monetary donation to Global Blood Fund for blood center assistance in developing countries.
As the local non-profit blood center, Oklahoma Blood Institute's donors provide every drop of blood needed for patients in nearly 90% of the medical facilities statewide including all Children's, Veterans, and Indian Hospitals.
Blood donors can visit Oklahoma Blood Institute donor centers statewide, or stop by a mobile blood drive.  Appointments are not required but can be made by calling Oklahoma Blood Institute at 877-340-8777 or visiting obi.org.
*16-year-olds must weigh at least 125 pounds and provide signed parental permission; 17-year-olds must weigh at least 125 pounds; 18+ year olds must weigh at least 110 pounds.