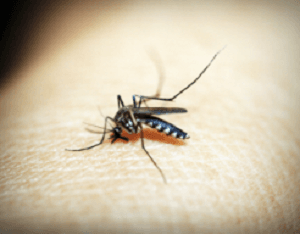 FIRST CASE OF WEST NILE VIRUS
CONFIRMED IN TULSA COUNTY
Tulsa Health Department Reminds Residents to Take Precaution 
TULSA, OK – Tulsa Health Department officials today announce a confirmed human case of West Nile virus (WNV) in Tulsa County. This is the first confirmed human case to be reported in Tulsa County this season. The Oklahoma State Department of Health also announced today a human case in Grant and Canadian counties, bringing the total to three WNV cases in the state for 2019. Residents are urged to continue to take precaution against WNV as months with the highest risk for exposure to WNV are the months of July through October.
Anyone residing in an area where WNV is present is at risk for exposure; however, approximately 80% of individuals infected with the virus will have no symptoms. In early May, health department officials confirmed that a sampling of mosquitoes from Tulsa County tested positive for WNV. Of the 106 trap samples tested this season, 1 mosquito trap has been confirmed positive for WNV in Tulsa County to date.
"While this case was not caused by the recent floodwaters, we do anticipate increased numbers of mosquitoes this season because of all the standing water that remains," said Executive Director Dr. Bruce Dart. "West Nile virus was confirmed in mosquitoes in Tulsa County in early May, and we expect to encounter more positive trap locations throughout the county this season. Everyone can take steps to reduce standing water and protect themselves against mosquito bites to help prevent the spread of mosquito-borne illnesses like West Nile virus."
West Nile virus is spread through the bite of an infected mosquito, which feeds on infected birds and then transmits the virus when biting humans, horses, and some other mammals. Symptoms of WNV include sudden onset of fever, headache, dizziness, and muscle weakness. Long-lasting complications can include difficulty concentrating, migraine headaches, extreme muscle weakness and tremors, and paralysis of a limb. If one or more of these symptoms develop, especially after suffering mosquito bites within the previous two weeks, a health care provider should be contacted. Persons over the age of 50 are at greatest risk of developing severe neurologic disease from WNV infection. Some of the neurological effects of WNV may be permanent. There are no medications to treat or vaccines to prevent WNV infection.
Among the precautions to take against mosquito bites are the following:
Dump and drain items such as buckets, cans, pool covers, flower pots, and tires from holding standing water so mosquitoes don't have a place to breed.
Use an insect repellent containing DEET or other CDC approved repellents on exposed skin and clothing when you go outdoors, particularly if you are outside between dusk and dawn when mosquitoes are more likely to bite. (Insect repellent with permethrin should be used on clothing only.)
Repair or install window and door screens to keep mosquitoes out of your home.
Encourage your friends and neighbors to dump and drain and to use repellents.
Clean leaves and debris from rain gutters regularly to ensure they are not clogged.
The Tulsa Health Department operates a mosquito surveillance program in order to confirm when West Nile virus is present in the community. Special mosquito traps are set in various locations throughout Tulsa County. Samples are collected and tested weekly for the presence of WNV. The objective of the surveillance is to detect the presence of mosquitoes, determine abundance, species, make a risk assessment, and provide a basis for control. Control methods include public education, larviciding and spraying for mosquitoes when necessary.
To place a complaint about mosquitoes in your area or to report standing or stagnant water in your area, please call 918-582-9355 or submit an online environmental complaint form on the Tulsa Health Department website at www.tulsa-health.org. Trapping and testing will continue until the numbers of mosquitoes subside in the fall months. 
The 2019 mosquito season by the numbers:
| | |
| --- | --- |
| 1 | trap sample tested positive for West Nile Virus |
| 106 | trap samples have been tested so far this season |
| 5,461* | mosquitoes collected for testing  *approximately |
| 1 | human case of WNV in Tulsa County |
| 3 | human cases of WNV in Oklahoma |
###
Click here for our interactive data page that includes a map of WNV positive trap locations in Tulsa County. This is updated weekly.