Give Blood and Let the Adventure Begin!
May 14, 2018-  Oklahoma Blood Institute has an exciting adventure in store for donors who give blood to help patients in local hospitals!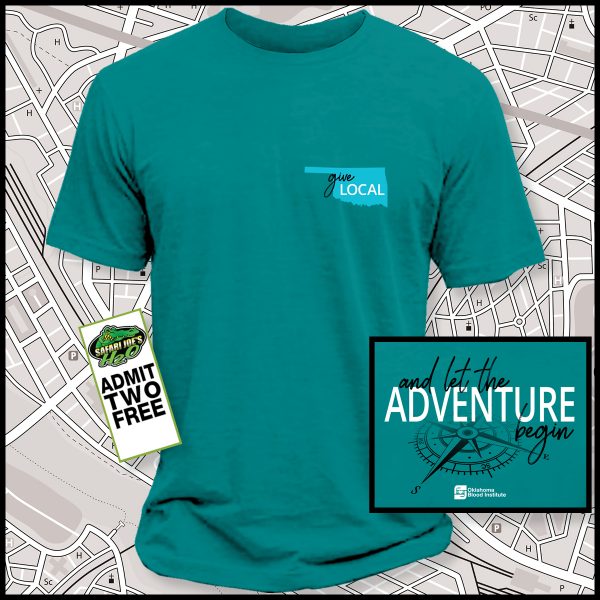 Donors who give blood NOW through August 30 will receive a limited edition "Let the Adventure Begin" t-shirt, and a voucher for two free admissions to Safari Joe's H2O Water and Adventure Park.*
Oklahoma Blood Institute is proud to partner with Safari Joe's, which features the NEW Reptile Rush Slides & Raptor Rapids Water Roller Coaster as well as one-of-a-kind reptile and animal attractions.
"With summer on the way, we want to give donors another extraordinary reason to give the priceless gift of blood," said John Armitage, M.D., president and CEO of Oklahoma Blood Institute. "Patients need blood 365 days a year, but the summer months present a unique challenge since so many of us are busy with travel and activities, and we may get out of our normal donation routines."
Donors will also receive a coupon for a free honey butter chicken biscuit from Whataburger and a chance to win Whataburger for a year.*
Only ten percent of people in the United States who are eligible to give blood actually do.  Blood donation takes just about an hour, and each donation can save the lives of up to three patients. 
Donors also receive free health screenings.  If they opt not to take the t-shirt, Oklahoma Blood Institute will make a monetary donation to Global Blood Fund for blood center assistance in developing countries.
As a non-profit blood center, Oklahoma Blood Institute's donors provide every drop of blood needed for patients in more than 160 hospitals, medical facilities and air ambulances statewide including all Children's, Veterans & Indian Hospitals.  Approximately 1,200 volunteer blood donors are needed each day to maintain the supply.
Appointments are not required but can be made by calling Oklahoma Blood Institute at 877-340-8777 or visiting obi.org.
*16-year-olds must weigh at least 125 pounds and provide signed parental permission; 17-year-olds must weigh at least 125 pounds; 18+ year olds must weigh at least 110 pounds.  Blood donation not necessary to enter prize drawing.